Touch. Pro!
Started: 2009-02-17 21:15:42
Submitted: 2009-02-17 21:42:00
Visibility: World-readable
When I joined Qualcomm six months ago, I discovered they had a "wireless device subsidy" program that would give me money if I bought a phone with a Qualcomm chip. My four-year-old Nokia 6016 was showing its age; sometime last year I had to duct-tape the front cover on to keep it from falling off. The numeric buttons were sticky and occasionally double-pressed, making dialing difficult. I wanted to be able to pair a Bluetooth headset. And I did not want a flip phone.
With those criteria, I soon latched onto the HTC Touch Pro: It featured a broad VGA touch screen and a snap-out keyboard. At $300 with a two-year contract and mail-in rebate, it seemed like a deal. (It's cheaper than the crib Kiesa wants, anyway.) After extensive online research, last November I visited the Sprint store in Longmont to look at phones and decided this was the only one I was interested in. I still wasn't sure I wanted to spend hundreds of dollars on a phone; I considered the merits of a netbook instead. (With a Qualcomm data card, it would also be eligible for an employer subsidy.) I waffled for a few months before deciding I really did want to get something; I wasn't going to be able to Twitter the upcoming birth without a hardware upgrade.
While driving back and forth to Denver during the past two weeks, I longed for a satellite navigation system to help me navigate the city and find that night's designated takeout. (The dual grid systems is the worst; most of Denver is on a normal square east-west/north-south grid, but downtown Denver's grid is rotated forty-five degrees to match the particular angle of a small section of the South Platte River.) A week in, I realized a good smartphone would solve this problem. The Touch Pro has a built-in GPS receiver; Sprint offers its own navigation software and Google Maps is also available.
This week, I identified two final criteria that I needed to test in person: How well the polarized LCD interacted with my polarized sunglasses, and whether I could install unsigned third-party applications. (In the course of my day job I figured out how to build Windows Mobile code.) I headed to Boulder's Sprint store during lunch and found another guy playing with the one phone I wanted to use. I looked at the other phones, felt generally uninspired, and waited for him to leave. I finally got my hands on the phone and verified that I could in fact see the screen with my polarized sunglasses on. I installed Quakk, a random Twitter client from the Internet, and verified the phone would work for me.
Actually buying the phone and transferring my account took a bit longer than I would have hoped but I did make it back to work in time for my early-afternoon meeting. I posted a Tweet while eating lunch as I tried to get the hang of my shiny new toy.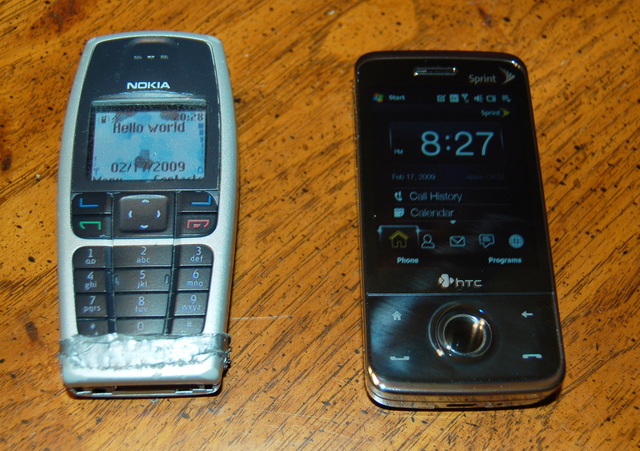 Nokia 6016 and HTC Touch Pro
My new phone is almost exactly as tall as my old phone, slightly flatter, and a bit wider than my old phone. The keyboard is a bit cramped, but typing small Tweets is easy.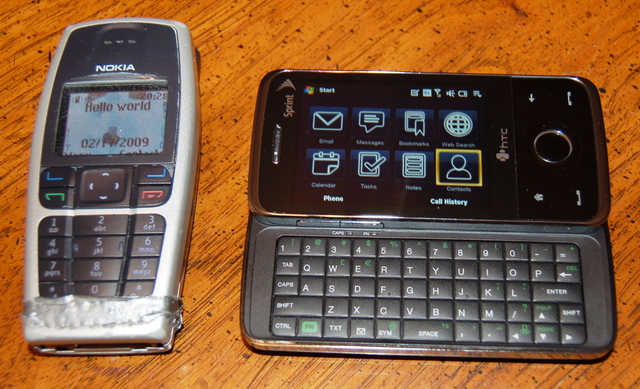 Nokia 6016 and HTC Touch Pro
(Kiesa spent all afternoon identifying baby stuff to buy and ended up spending more than me. She may be home on bedrest but no one cares on the Internet.)