Vacation Planning
Started: 2010-02-21 20:47:04
Submitted: 2010-02-21 22:20:55
Visibility: World-readable
Having acquired a six-month tourist visa last November and purchased my plane ticket to India last month, I spent much of my free time this month nailing down the final details of my trip. Last week I bought two domestic plane tickets to get me to and from north-eastern India (which set off my credit card's fraud alert). I leave North America in less than two weeks, on Saturday, 6 March, on a direct Chicago-to-Delhi flight straight over the North Pole. I land in Delhi late at night Sunday, after roughly fifteen hours in the air. I hang out at the airport overnight and catch a two-hour mid-morning flight to Guwahati, Assam. I meet Willy at the airport, pick up a SIM card for the unlocked Nokia E63 I just bought, and we head to the school he teaches at in Bagendoba in the East Garo Hills region of Meghalaya. We spend Tuesday at his school, while I try to quickly recover from flying halfway around the world. On Wednesday we head back down into the Brahmaputra river valley and catch a train for Silurgi, then head up Hill Cart Road to Darjeeling. We see tea estates, stupas, museums, the Darjeeling Himalayan Railway, and mountains. On Sunday, we head back down the mountain; Willy heads back to Bagendoba and I fly from Bagdogra to Delhi (via Guwahati), then back home (via the North Pole and Chicago). I arrive Monday morning, jet-lagged with a camera full of pictures and enough adventure to last at least until summer.
At least, that's the plan. I also know that no plan survives contact with the enemy.
I've now reached the point of diminishing returns in travel planning; there's only so much I can plan, especially when visiting a developing country on the other side of the planet. (Depending on the conditions on the ground, we may need to stay in Silurgi on Wednesday night and head up to Darjeeling on Thursday. If all goes well, we'll arrive in Silurgi at 16:55 local time, which may or may not give us enough time to get to Darjeeling all in one day. There are earlier trains, but it's not quite clear how long it'll take us to get to the train station in the morning, so caution seemed in order. Or maybe we'll find we get to the train station in Bongaigaon in time to catch an earlier train. A second-class sleeper berth -- which, I've been told, is the only authentic way to experience Indian rail travel -- runs about Rs. 108 for the 251 kilometers from New Bongaigaon to New Jalipurgi stations. That's about $2.34 at the current exchange rate. (I don't yet have a good idea what the purchasing power parity is, which would be useful for comparing prices relative to local wages, but is mostly meaningless for the actual mechanics of travel on the ground.)) There are a few gaps in my understanding that I need to fill (namely what to do for sleep at Indira Gandhi International Airport in the twelve and a half hours I have on Sunday night), but for the most part I think I know what I'm doing as well as I can before stepping off the airplane into the muggy Delhi night two weeks from today.
My major outstanding tasks involve planning my luggage (as little as possible) and buying the missing pieces in my surviving-a-developing-country kit. I'd like to pack everything in my Kelty daypack, which will barely fit into my carry-on luggage allowance, unless I fill it to capacity. I like the idea of not having to rely on checked luggage, especially while traveling internationally, and I especially like the idea of having a backpack as my primary luggage, but I'm not sure I can fit what I need into a scant 3100 cubic inches, and I'm afraid of subjecting my clothing to local dhobi-wallahs. India has its own exotic set of power plugs, requiring a new set of plugs to plug my dual-voltage hardware into. I also need to consider water purification (which basically boils down to iodine versus chlorine versus bottled water) and a set of locks for securing my luggage. (Call me paranoid if you like, but this is not the time when I want to use locks vulnerable to the TSA's skeleton keys.)
I finally got around to filling my anti-malarial prescription (Malarone), typhoid fever vaccine (featuring live, attenuated bacteria), and ciprofloxacin in case (when) I get traveler's diarrhea. (Eliciting an immune response and subsequent immunity from attenuated Salmonella Typhi is easier when not mixed with antibiotics. I read the detailed information, with footnotes, printed in eight-point font on the insert and was pleased to see that they didn't talk down to me, but I wondered whether I would have gotten more out of the text had it been targeted at an audience somewhat more general than graduate microbiologists.)
---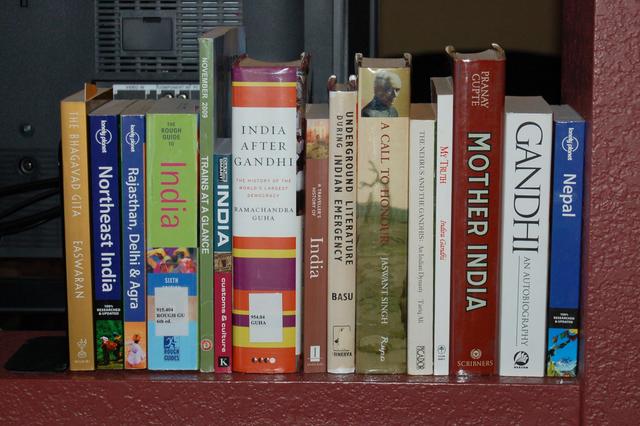 Jaeger's vast collection of Indian books
I've spent most of the rest of my free time cramming Indian history. With two weeks to go, I'm trying to add travel writing to my diet as I finish up Jaswant Singh's memoir A Call to Honour: In the Service of Emergent India, try to get back into the lengthy India After Gandhi: The History of the World's Largest Democracy, and read next month's book club selection, The Dragons of Babel.