Thanksgiving 2012
Started: 2012-12-08 12:42:39
Submitted: 2012-12-08 13:57:30
Visibility: World-readable
In which the intrepid narrator travels to Portland and discovers that even Portlanders can be overwhelmed by rain
After taking Calvin to the ER early in the morning of the Friday before Thanksgiving, we flew to Portland to begin our two-way Thanksgiving with our respective families. Instead of staying home for Thanksgiving, and doubling up on Christmas (as we've done every year since Calvin was born), we doubled up on Thanksgiving to leave Christmas free for an extraordinarily-ambitious trip to Hong Kong. (As I write this we're less than two weeks away from that trip, which still boggles my mind, and reminds me I still have parts of the plan left incomplete.)
In stark contrast to the morning, our trip to and through the airport was uneventful. We've finally figured out how to exploit my "traveling as a family with a small child" status to avoid having to opt out of the obnoxious full-body scanners (subjecting one to the possibly-even-more-obnoxious pat-down), but our trip through security seemed especially slow; the hand luggage x-ray machine seemed to take much longer than normal. (I saw a trio of young Muslims at the next scanner, one normally-attired young man and two young women who wore full face scarves in addition to their Western attire. They were, as far as I could tell, being very carefully subjected to extra attention, ostensibly centered around their face coverings.)
I dodged the Saturday morning religious services in favor of a run around Lake Sacajawea. Sunday featured a Thanksgiving dinner with most of Kiesa's extended family (who failed to heed warnings that Calvin might still be infectious), and by Sunday evening I was starting to get irritated by my lack of control over my own vacation destiny and lack of physical space in the tiny, cluttered guest room. I reclaimed my destiny and made plans to visit Portland the next day.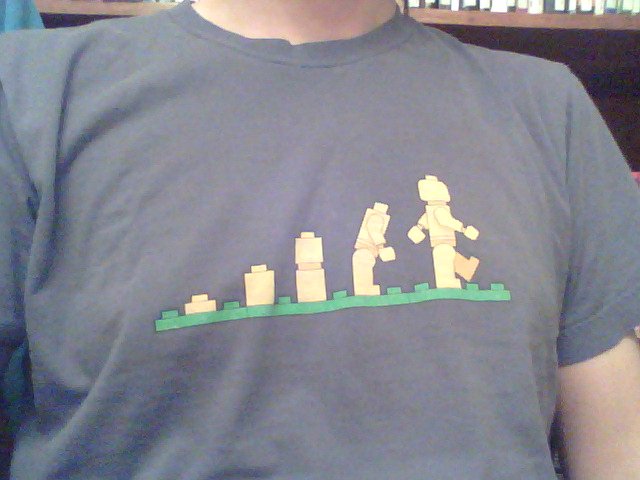 I am sure there's an obvious reason why I took this picture of my t-shirt
On Monday morning, we headed to the Kelso/Longview Amtrak station so Calvin and I could take the train to Portland. When we arrived we learned that the train was delayed by 45 minutes due to the heavy rain, so we waited in the little station (and tried to dodge a tract-wielding Christian with unclear objectives worried about corruption; I wouldn't want to discount the influence of corruption in the United States but it's far worse in the developing world) as the train's arrival was pushed further back. At length it arrived, and I led Calvin across the platform in the rain to the open door on one of the carriages. We squinted out the rain-streaked window as the train traveled south. We passed various industrial sites along the Columbia River and Calvin kept asking me what they were. (Alas, the Trojan nuclear plant cooling tower is no longer standing, otherwise Calvin would have wanted me to explain that as well.) Our journey was further delayed by a 25-mile-per-hour speed limit adjacent to track work in the vicinity of Woodland. We stopped briefly at Vancouver, then crossed the rain-soaked Columbia River into Oregon, and eventually reached Portland's Union Station. It was interurban rail service, not up to event the standards of commuter rail, but it was an amusing way to get into Portland for the day.
We emerged into the rain and caught a south-bound MAX green line train to catch the streetcar, which took us right outside Powell's. (Apparently the rain was enough to overwhelm even native Portlanders.) Calvin wasn't especially interested in walking, so I carried him past Powell's to PF Chang's, where we found Kiesa and her mother waiting for us for lunch. After lunch, Calvin and I headed back to MAX and took the red line west to Washington Park. (For some reason I keep wanting to shorten the name to "Wash Park", but I'm told that's entirely unacceptable.) Calvin was fascinated by the trains; it was his first real exposure to riding rail as mass transit. In Washington Park we took the elevator to the surface and headed through the rain to the World Forestry Center (which I vaguely remember visiting as a child; my parents think this might have been when I was four or five), where a hand-lettered sign told us the center was closed due to a power outage, so (after checking out the Shay parked out front) we headed to the Portland Children's Museum. (I also recall visiting OMSI as a child, when it was located in this building; I remember a human-scale spider web made out of rope colored to indicate which threads were sticky and which threads the spider could walk on.) We met Kiesa and her mother and took Calvin into the museum, which mostly featured child-scale toys with a modest exploration-and-learning component. Calvin liked the clay room (until it closed) and really liked playing in the water room. One structure in the water room was a large table with water running lengthwise across the table; I could place plastic barriers across the water to reroute it, which amused Calvin almost as much as it amused me. We drove back to Longview in Portland rush-hour traffic and made plans to return the next day.
On Tuesday, we headed back to Portland, straight to Washington Park, where Kiesa's mother tried to take Calvin back to the Portland Children's Museum while Kiesa and I took MAX to Powell's. Calvin did not appreciate being left behind (even with his grandmother) and preferred to sulk in the car rather than going into the museum. Kiesa and I had a great time at Powell's; I started in East Asian guidebooks and looked at the Chinese language section before hitting Chinese history (where I found two hardcovers from 1940). Between the two of us we bought enough to get a free tote bag on checkout.
We rendezvoused with Calvin and Kiesa's mother at a local Thai restaurant, which featured a small front loader scooping gravel into a dump truck while we watched, followed by a sudden downpour. No one was quite sure what to do after lunch, so I suggested OMSI, and then tried to relay the directions given by my phone to get us there. We started in the turbine hall, where Calvin enjoyed the small-scale container dock and crane, but I wanted to play with the 75-ton gantry crane at the top of the room. We headed to the small children's play room, where Calvin managed to amuse himself until we decided it was time to leave, just in time to catch a bit more Portland rush-hour traffic on the way home.
On Wednesday, we drove back to Portland one last time to catch our flight to Sacramento for the second part of Thanksgiving. As we were checking in, the agent casually mentioned that our flight was going to be slightly delayed; we'd now be leaving around 16:15. Taken aback, I pointed out that was a four-hour delay and the agent mentioned that, yeah, it was. We checked our bags and then tried to figure out what to do with our extra four hours. We'd arrived two hours early, so we had six hours before our flight left. I called my family to let them know we'd be late (and probably wouldn't be able to visit the California State Railroad Museum as originally planned), and Kiesa called her mother to come back to pick us up. We headed down I-205 to the creatively-spelled Clackamas Towne Center mall to kill time (I had some chai and looked through a shop selling expensive tea and related paraphernalia) before eating lunch at The Olive Garden and heading back to the airport. I figured out our aircraft had been delayed by fog in Chicago-Midway; by checking our incoming aircraft I had a better idea when it would arrive than Southwest was announcing publicly. Calvin pulled out his new stash of Legos from Grandma and played with them as we were waiting, much to the enjoyment of a gradeschool boy sitting across from us, who joined him (and commented on Calvin's large vocabulary). When the plane finally arrived, just as it looked like we might actually board the plane, they announced that they were calling maintenance for an oil leak. Half an hour later, maintenance decided it wasn't a problem and we'd be flying to Sacramento after all -- nearly six hours late.
We arrived in Sacramento's new Terminal B without further incident (apart from a minor confusion regarding the signs for shuttle busses to the rental cars) and picked up our rental car. The agent tried to up-sell us on a larger SUV for us and our luggage until Kiesa pointed out that we drove to the airport in a RAV4 -- which turned out to be smaller than the (two-wheel-drive) Ford Escape we ended up with. We'd missed the scheduled dinner to celebrate my father's sixtieth birthday (by the time we left the airport it was approaching 20:00 PST), so I found a Chipotle next to US 50 on our way to my grandparents' house and we stopped to pick up supper. Calvin fell asleep on the drive, and we successfully transferred him to his bed in the guest room on our arrival. I showed off some of the books I was reading to Willy, compared notes from our respective (and concurrent) trips to India this summer, and saw my father's pictures from Saudi Arabia before deciding it was time for bed.