Things I took to CHaRM today
Started: 2013-09-28 14:20:58
Submitted: 2013-09-28 14:44:35
Visibility: World-readable
In which the intrepid narrator takes obsolete and broken electronics to Ecocycle's CHaRM
Ever since moving into this house last spring I've been accumulating electronics and other things we can't easily dispose of in our curbside recycling bin. We had a few electronics die on us in the past year (our HP LaserJet printer Rygel and my Mac Mini Sasami), and during the flood I found a box of electronics I hadn't touched since moving in. I'd meant to visit my local Center for Hard-to-Recycle Materials ("CHaRM") for a while but got sidetracked with the flood. When I pulled up I discovered they were accepting flood-damaged items free from City of Boulder residents, but the stuff I wanted to get rid of wasn't actually flood-damaged, so I paid full price -- US$33 -- to properly discard my electronics and other stuff.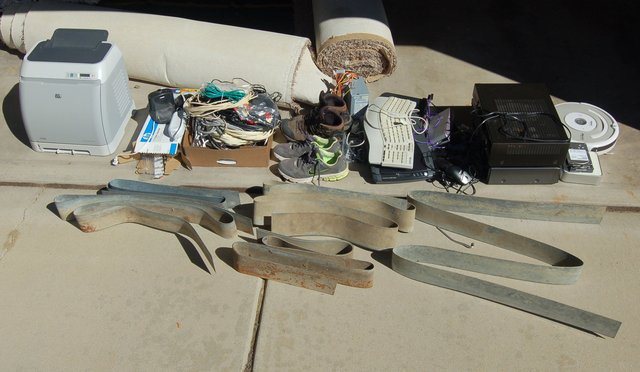 Stuff waiting to be taken to CHaRM
(Behind the pile is the flood-damaged carpet from our basement; I'm waiting for the City of Boulder-sponsored curbside pickup starting next week to get rid of that.)
The full list:
Cables:

Coax
Audio
USB
Speaker
Phone

2 pair shoes
Computer power supply
Flat-bed scanner
Computer keyboard (an old Microsoft Natural keyboard with a PS/2 interface)
2x computer mice
VCR (still worked, but we haven't used it in years)
Receiver (still worked, but we haven't used it in years)
2x hard drives
Mac Mini
Roomba (no longer fully functional)
HP LaserJet printer
Extra HP toner cartridge
Scrap metal (mostly edging removed from the yard)
Now I can actually park my car in the garage again.