On Holiday
Started: 2014-05-25 17:21:37
Submitted: 2014-05-26 10:00:14
Visibility: World-readable
Wednesday and Thursday, 14th and 15th May: in which the intrepid narrator flies over the Atlantic Ocean to Edinburgh to begin a holiday in Scotland
The week before we left for our holiday in Scotland, Kiesa went to a user's group conference for her new integrated library system, which her library district will be migrating to in November. (She calls this her "system migration", which just means "big project".) While she was gone, my mother visited to help take care of Calvin. (I am, in theory, capable of taking care of Calvin by myself, and Kiesa manages to take care of Calvin just fine when I go off on business trips, but we've managed to specialize to the extent that it's easier to invite my mother to help me out. She used the trip to find housing for the next year when she moves back to Boulder while my father takes a sabbatical.)
Kiesa returned on Friday night (9 May), leaving just enough time to unpack and repack before heading back to the airport on Wednesday night for our evening British Airways flight to Heathrow. We originally planned our vacation to avoid Kiesa's series of every-other-week all-day meetings on Wednesdays, in which she discusses various facets of the forthcoming library system migration, by leaving on Wednesday night after the meetings, but the meetings ended up being canceled this week. We still had the opportunity to work all day before leaving, though I was a bit distracted by watching the progress of my inbound aircraft as it flew from Heathrow to Denver, about two hours late.
We drove to the airport, checked into our flight, and made it through security without incident, though we may be approaching the upper age limit where we can exploit Calvin to get us out of the body scanners. (British Airways does not yet offer PreCheck service, unlike most of its legacy US-flagged carrier counterparts, though the TSA is allegedly allow foreign carriers into the program. We signed up for Global Entry early this year, but I haven't had the chance to actually take advantage of the less-invasive security screening provided by PreCheck, or the expedited Global Entry immigration lane. The first time Kiesa flew with PreCheck was to visit Detroit for her user's group conference, and she thought it was fantastic.)
We ate supper at the airport and waited, at length, for our plane to arrive. I found a seat with a front-row view of the nose of the plane when it eventually arrived. We ended up in the small-child portion of the waiting area; Calvin found another five-year-old boy to play with, and eventually we had six or eight children running around in front of the plane. This relieved us of the need to actually respond to Calvin's chattering (and made me wonder if we should bring along a play-mate regularly), though we did have to keep him from getting too wound up.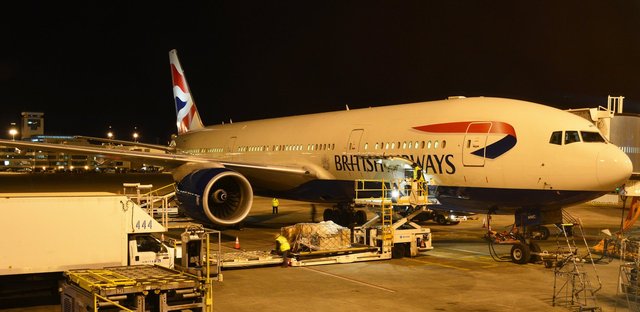 British Airways Boeing 777-200 G-YMMC at Denver International Airport
At length our plane boarded, and we found our seats, a window-middle-aisle combination at the rear of the first cabin of economy ("World Traveler") seats. (I was relieved to see that none of the small children we met while waiting for the plane appeared to be seated near us, lest Calvin try to stay up all night chattering to them, but there was a very large queue of families with small children five and under when early boarding was called.) None of the seat maps I found online precisely matched this airplane's configuration, but some of them warned that the seat might not recline fully, due to the wall behind us. I did not observe this in practice. I took the window seat, Calvin got the middle seat, and Kiesa took the aisle seat.
We pushed back and departed Denver without much additional delay, though we were already delayed by nearly two hours. Since I last traveled to the UK in 2006, I've been to Australia, India (twice), and Hong Kong, all involving much longer flights; an eight-hour flight from Denver to Heathrow felt almost like a milk run by comparison. I went to sleep after the in-flight meal service (I ate, despite it being after 22:00 Mountain time, and 05:00 in my target time zone; I ought to have been asleep for hours) and managed to sleep through most of the flight.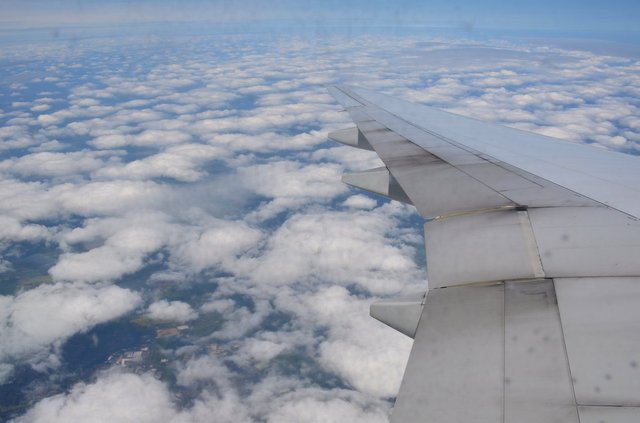 English countryside under G-YMMC's wing
I awoke an hour or so before landing, after about five hours of sleep, in time to eat the very light snack box passing for breakfast. I watched our approach to Heathrow on the in-flight map and noticed the two loops we spun to kill time during our approach, and I tried not to worry about making our connecting flight. (When I booked our tickets, I had the option of choosing a one-hour layover before our flight to Edinburgh, or a three-hour layover. The one-hour layover didn't seem like it would provide enough opportunity to absorb any delays and allow us to fulfill the border formalities, so I picked the three-hour layover, which seemed more than adequate when I booked, but the two-hour delay taking off ate up most of the cushion, and the holding patters in the air threatened to eat the rest.)
Things got worse once we were on the ground and we had to sit on the tarmac, just short of the stand, waiting for the previous aircraft to vacate the gate so we could pull forward. Once we pulled up to the gate, twenty-five minutes later, the various ground crew started opening cargo doors to service the aircraft, but no one seemed to be there to move the jet bridge forward. The pilot eventually came on the intercom, reporting that he had to lean out the cockpit window and gesticulate wildly to get the attention of the ground crew.
We alighted as quickly as we could and joined the mad rush of passengers all trying to make their connecting flights. We ended up at satellite B at the new Terminal 5, so we had to take an elevator to the people-mover in the basement that took us to the main terminal building, where we followed the purple 'connecting flights' signs and eventually found the tiny "UK Connecting Flights" sign. We ended up in the fast-track lane due to our tight connection, and were whisked to the front of the immigration queue, where I answered a few basic questions from the immigration officer (the three I remember were "Have you visited the UK before?" (yes, most recently in 2006), "How long are you planning on staying?" (eleven days), and "Are you planning on staying in Scotland the whole time?" (no, going to York for a few days; I did not mention that the landing card did not have enough space on the "address while within the UK" box to enter my entire four-city itinerary)), and with stamps in our passports we were formally admitted to the United Kingdom of Great Britain and Northern Ireland as visitors for six months, unable to take employment and with no recourse to public funds.
We hurried up the escalator at the far side of the immigration office and found ourselves in a queue for security. This check asked us to remove our tablets as well as our laptop computers from our luggage (avoiding the awkward question about whether a tablet with a keyboard is a "computer", which I assume must give Surface owners no end of trouble at TSA checkpoints), but we generally got to keep our shoes on -- at least, until Kiesa's beeped and had to go through the x-ray machine anyway. In the turmoil we ended up losing Calvin's hoodie but we emerged with our other bags (and our dignity) intact.
Security dumped us out right into the middle of the main departures area of Terminal 5. We checked the monitors and hurried to the end of the concourse to find our flight. We arrived just in time to see a very large queue waiting for the flight to board, so I finally allowed myself to swing by the toilet and sit for a few minutes while we waited for our slightly-delayed flight to depart.
We boarded our flight without further incident for a short trip up to Edinburgh, on an A321 in a domestic, all-coach cabin configuration. I had a great view of the English, and eventually Scottish, countryside as we flew north. As we approached Edinburgh I spotted the Forth Bridges spanning the Firth of Forth: the hulking 19th-century cantilever rail bridge, the spindly 20th-century suspension road bridge, and the piers for the still-under-construction 21st-century replacement road bridge.
Upon landing, we found baggage claim, grabbed our bags, and headed to find the taxi stand. (I noticed that our baggage claim carousel was in a separate, partially-walled-off area of the baggage claim, that was legally a customs entry point. We hadn't previously made any formal customs declaration at Heathrow.) We took a taxi to our hotel in the city, the Novotel Edinburgh Centre, within walking distance of the city's main sights, including the UNESCO World Heritage Sites Old and new Towns. (I was disappointed to see that the tram line connecting New Town with the airport would not be running until 31st May, not long after we departed. We could have taken a bus to the city centre, but it still would have been a bit of a walk to the hotel. The trams ran in trails up and down the streets while I was in Edinburgh, taunting me while not picking up passengers.)
We checked into our hotel and found our room, a snug room on the floor above the ground floor with a double bed and a made-up sofa sleeper for Calvin. (With the sofa bed collapsed it would have been almost roomy, but we needed somewhere for Calvin to sleep, and all of the family rooms I found in the UK included a main bed and a sleeper sofa.) It was around 18:00 localtime, and still bright and sunny. (We left home at 17:00 MDT the previous night; door-to-door, our trip from home to our hotel took 25 subjective hours (counting the time difference and simply subtracting local times), or 18 objective hours (converting both into a common time zone).) I took a shower, felt better, and we set out for supper, a brisk walk through Edinburgh University to Bindi, a small Indian veg restaurant serving a variety of curries and chaat. (The menu suggested eating there was easier than a flight to Mumbai, which I thought was amusing given our circumstances, but there still aren't any chaat places in Boulder.)
After supper we returned to the hotel and went to bed about 21:00 British Summer Time, exhausted but happy to be on holiday in Scotland.
For more photos from the outward journey, see Photos on 2014-05-14 and Photos on 2014-05-15. For Kiesa's parallel account, see Scotland – Day 1.