Release Candidate
Started: 2014-08-20 21:00:18
Submitted: 2014-08-20 21:23:20
Visibility: World-readable
In which the intrepid narrator announces Version 2.1 Release Candidate 1
Once upon a time, Thinkgeek stocked a series of t-shirts identifying parents as Version 1.0 and their first-born child as Version 2.0. Being good geek parents, we got a set for Calvin and I. He outgrew his several years ago, though I still have mine somewhere in my t-shirt drawer.
So when we decided to have another baby, as a long-term investment in our family, the obvious code-name was Version 2.1. This minor version release is intended to fix the bugs in the first version but may also succumb to second-system syndrome as we throw in all of the features we couldn't get to work right in the first version. (Everyone knows the point-zero release is never really stable, though we do expect to have some teething problems getting Version 2.1 up to speed.)
We are now proud to announce Version 2.1 Release Candidate 1, otherwise known as an almost-ten-week-old human fetus with an estimated release date in the middle of March -- exactly one week before Calvin's birthday. Version 2.1 is currently three centimeters long and has a recognizable head, arms, and legs.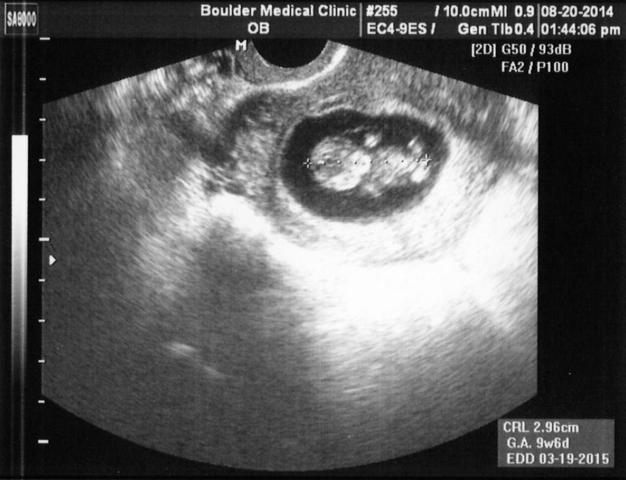 Ultrasound of Version 2.1 rc1 at 9 weeks, 6 days
(Version 2.1 will eventually get his or her own name, once we've figured out the baby's sex so we can give him or her a culturally-appropriate gender-specific name.)
Version 2.1's official Twitter feed, for those into that sort of thing, is @version2_1. Someday soon I suspect Version 2.1 will complain that my Twitter identity, @calvinsdad, is an obvious reference to Version 2.0 and is entirely unsuitable for an environment in which we have multiple minor versions.