Buying C-3PO
Started: 2015-03-14 18:19:32
Submitted: 2015-03-14 19:04:52
Visibility: World-readable
In which the intrepid narrator buys his parents' minivan
My family first acquired a minivan in the late 1980s, when my family outgrew our 1982 Volvo DL sedan and needed something bigger. My parents bought a Dodge Grand Caravan, which served my family until 1999, during my freshman year of college, when it developed transmission problems and my parents replaced it with Honda's first proper minivan, the newly-redesigned Honda Odyssey. (This vehicle, according to its nameplate, was produced by Honda of Canada in Ontario. Wikipedia tells me that all Odysseys sold in the North American market in the 1999 through 2000 model years were produced in Canada, until Honda's plant in Alabama came online in 2001.) This minivan served my family for years, including shuttling participants for important events in festing.org lore including the sci-fi convention trip in 1999, Yanthor and Anya's wedding in 2001, and my wedding in 2002.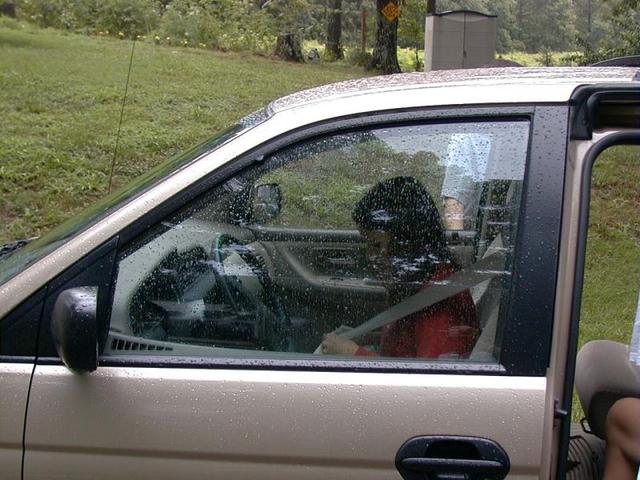 bethany takes the helm of c-3po
This appears to be my only historic picture of the minivan, which we quickly dubbed "C-3PO" for its golden color, from my family vacation to Florida in 2000.
Once my siblings and I moved out of the house, though, my parents' need for a minivan diminished. It came in handy while visiting my parents during holidays, but when my parents moved to Boulder this year they left their minivan in their garage in Walla Walla, bringing only their Prius. (At Christmas, when Willy left for six months of research in India, he drove his Corolla to Boulder and left it with our parents for safe-keeping.)
When Yoda started developing transmission problems, and we decided that the prudent course of action would be to not replace the transmission in an eighteen-year-old car lest we face the prospect of spending more and more money to keep a dying car on the road, I mentioned my search for a replacement vehicle to my mother, and she offered their minivan (after, I assume, discussing it with my father). I talked to Kiesa, who has lusted after minivans for years, given her Pacific Northwest upbringing and the benefits of being able to stand inside the vehicle outside of the persistent drizzle while strapping children into their car seats. I would never consider buying a sixteen-year-old used minivan from any random private party, but I trusted that my parents had maintained their vehicle properly and I would not run the risk of a lemon. I agreed to indulge Kiesa in her minivan lust, under the express condition that I would never have to drive the vehicle for any reason. We offered to buy the vehicle outright, so we could register and insure it properly in our own household, for the Blue Book value, which rounded off to $1600, and my parents agreed.
My father visited Walla Walla in the first week of March and drove the Odyssey back to Boulder this week. On Thursday morning, after three days of biking to work, I went to drive Yoda to work and discovered, to my dismay, that it wouldn't start. When Kiesa returned from taking Calvin to kindergarten, she helped me jump the car, but that did not fix the problem. It appeared that the starter was working properly, but the engine wouldn't turn over on its own, possibly as the result of a fuel mix problem, or the spark plugs, or something. I biked to work, postponing my planned after-work errands for later in the evening after Kiesa returned from prenatal yoga.
I mentioned this on Twitter and my mother responded that my father had just returned from Walla Walla with the Odyssey. I biked to their apartment after work to pick up the van, officially taking ownership and possession of the vehicle that defined much of my home life while in college. We still need to register the van, figure out how to stick it in the garage, install a stereo with a cd player and an aux in jack, and dispose of Yoda (probably through our local public radio station, who keep advertising that they'll come take it away for free and give me a tax receipt). Any part of this process may be interrupted if Version 2.1 decides to arrive, though so far we're half-way through week 38 without any further signs of labor.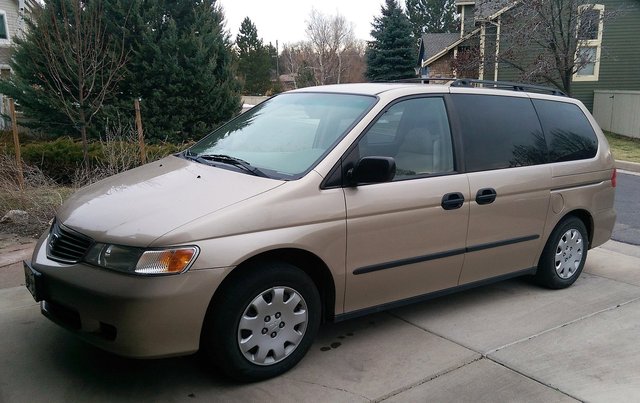 New preowned Honda Odyssey