IX3 Recap
Started: 2016-02-03 11:08:00
Submitted: 2016-02-03 17:32:17
Visibility: World-readable
In which the intrepid narrator recaps his third expedition to India
To keep track of all of his trips to India (I think he's on his fifth now), Willy adopted the nomenclature "India Sojourn n", shortened ISn, where n is a counting number. So his first trip in 2009-2010 was IS1, and now he's on IS5.
Now that I've been to India on three separate trips, I wanted my own naming scheme to talk about my trips. At first I considered appropriating Willy's nomenclature, but he didn't like that idea (and it was confusing, since we had to distinguish between "my IS1" and "your IS1"), so instead I adopted the nomenclature "Indian Expedition n", shortened IXn. Since my Christmas trip was my third trip to India, it became IX3.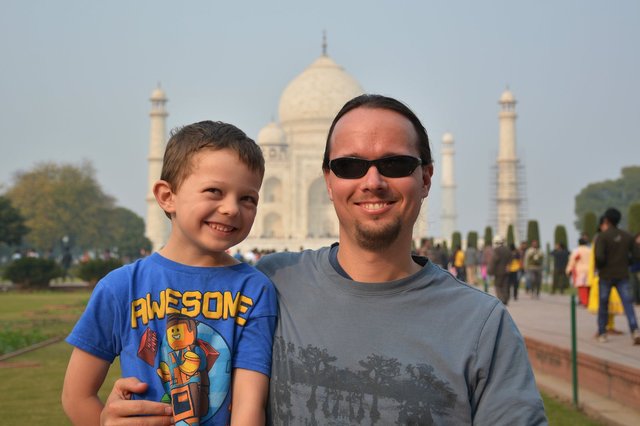 Calvin and Jaeger at the Taj Mahal
You can see my full set of photos from the trip -- 235 photos in all -- as Photo set: India 2015.
I wrote at length about the trip in consecutive posts. If you're just joining us, or you missed any, here they all are:
This trip was the longest I've been in India, and one of my longest international trips. It was also an important milestone in my parenting. We've taken Calvin on trips, and international trips, before (to Hong Kong and Scotland), and I've taken him by myself on shorter domestic trips (to New York and Legoland). But this was the first time I was entirely responsible for him on a two-week international trip, without Kiesa to play default parent. Having the rest of my family of origin along was handy -- Calvin spent most of his time clinging onto Aunt Bethany (which she seemed happy to indulge).
The biggest problem with taking Calvin to India was finding food he would eat. He is not especially enthusiastic about Indian food at home, and was even less interested in Indian food in India. Sometimes I indulged him with American food, sometimes I could get him a cheese dosa, sometimes I cobbled together enough bread and plain white rice for him to eat, and sometimes I had to bribe him with ice cream or some other dessert to get him to eat enough of the real food.
I probably erred in not allowing for enough downtime for Calvin in the middle of the trip. Scheduling downtime is tricky -- I want to go see things in the place I'm visiting, but it's important to rest and recharge in the middle of the trip. I've gotten to the point where I can use internal travel time to sit back and relax, but Calvin either has not mastered this skill, or just needs more self-directed time.
(Taking care of Calvin still stresses me out, though far less than taking care of Julian does. This is something I need to interrogate further.)
In the months leading up to the trip, I was distracted by getting laid off from the job I've had for seven and a half years and interviewing for (and getting) a new job. This meant I ended up outsourcing most of the travel planning to my mother. She laid out a complicated schedule involving five cities, two train rides, two domestic plane flights, and an open-jaws international flight (entering and leaving the country through two different airports). Her itinerary missed many of the sites on the top of my list, but I still had a great time at the places we did visit. It also helped that I was able to draft off Willy's sightseeing plans on a daily basis, so I could focus my attention on the tactical minutiae of taking care of Calvin and only occasionally make suggestions about what I'd be interested in seeing.
The one real problem I had with my mother's travel arrangements was her choice of hotels. The exchange rate is quite favorable to the US dollar, and it's possible to get four walls and a bed and an en-suite bathroom without paying very much money at all. (On IX1, I paid Rs. 350 (about US$7 at the time) for a night in a dumpy double room, then Rs. 1800 per night for a much nicer room in Darjeeling.) But I'm used to (and willing to pay for) a higher class of accommodations: I want at least hot water and a shower curtain and toilet paper, and those are harder to come by at discount backpacker hovels. (It's also hard to tell, judging solely from pictures and online reviews, whether a particular hotel meets my standards -- so I'm forced to use price and star rating as a proxy. As a result I probably miss perfectly acceptable mid-range hotels -- but on the other hand I'm on vacation so I want to enjoy myself.)
In the months leading up to the trip, Willy repeated his assertion that India is a great place to bring children, and now that I've done so, I have to agree. It occurs to me, though, that everywhere anyone is living on the planet (with only a few exceptions: deep-sea oil rigs, aircraft carriers at sea, and McMurdo Station in Antarctica) has families and children. But different people in different places put different values on their children, and have different expectations on how children should behave and what facilities should be available to them. (Should they be heard, or just seen?) In some ways, India seemed better adapted for children than parts of the United States -- my home country gets awfully paranoid about spurious lawsuits and has the tendency to fence things off and put up "don't touch" signs, while India is happier to let anyone climb up and down anything and touch and yell and play. Everywhere we went people were fascinated by Calvin, the little white boy who came to visit their country, and to a lesser extent the adults around him. I found the attention endearing, but Calvin was not always interested in people (especially young adult men) trying to take their pictures with him. (The one weird part was that waiters never wanted to take an order for food for Calvin, apparently assuming that he'd share food from our plates, which might be a more reasonable assumption if he actually liked the food we ate.)
A few other stray observations from India:
The iPad is (still) an amazing child-amusement device. Calvin will keep himself occupied for hours watching videos and playing games on it. Modern in-flight entertainment systems are pretty neat, too, and even come with parental controls so I can restrict what movies Calvin has access to.
The WiFi at the Taj President in Mumbai allowed two devices to be connected, but kept freaking out at something my phone tried to do to access the Internet, and kept popping up a window asking me to sign up for paid access (which was still fairly affordable, at about US$10/day) so I could use high-bandwidth streaming services or voice and video chat services. I was not trying to use any of these services, and would have been perfectly happy to to not use them, but even after I disabled every service and app on my phone that I could find I still saw the messages. The network would not block my access to the rest of the Internet, but my phone would flag the WiFi network as "needing a login" and stop routing traffic through it.
I want a WiFi/WiFi bridge so I can create my own private network and use more devices on the network than the hotel wants to let me.
The airport terminals in Mumbai and Goa wanted to verify my identity by texting me an access code -- to my Indian mobile number, which I didn't have (and couldn't easily get). I got one of them to work with my US number, but most of them refused to work with anything other than an Indian number.
Having a mobile phone was very useful for coordinating actions with the rest of my family when we split up. Roaming on my US Verizon plan wasn't too expensive with the international roaming package (US$40 for 100 megabytes of data plus more voice minutes and text messages than I used; extra data was US$25/100 megabytes). Google Maps has become my one indispensable travel tool, and being able to download the maps for a city for offline use on WiFi is great for saving mobile data. I'd really like a dual-SIM phone so I can use both my US mobile number (which occasionally comes in handy when, say, my bank decides to call me to see if I'm really in India) and a local number with a data plan.
I need to add duct tape to my default packing list, so I can patch things (like my suitcase) on the fly. A bungee cord and/or nylon strap might be handy too -- I could have used a nylon strap as a temporary suitcase handle when my handle failed (for a second time) at baggage claim at Newark.
I had a great time with Calvin and my family of origin in India, and I'd do it again without hesitation.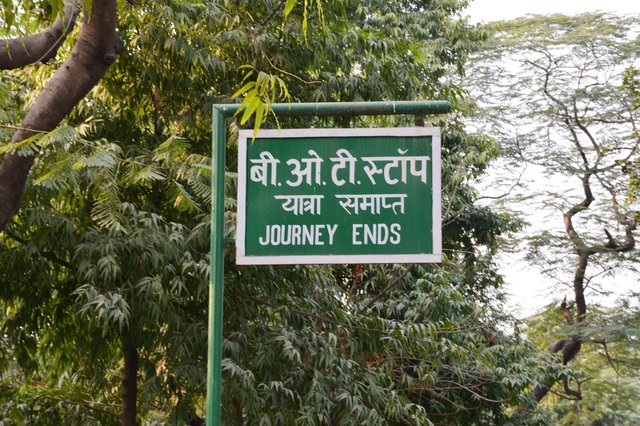 Sign at National Zoological Gardens: Journey Ends