Park City Interlude
Started: 2016-05-01 14:01:23
Submitted: 2016-05-01 18:29:33
Visibility: World-readable
In which the intrepid narrator spends two days skiing at Park City on his way to San Francisco
I spent two days skiing at the newly-unified Park City ski resort on my way between Boulder and San Francisco. My hotel was about a mile north of the original Canyons base area, so I felt compelled to look up the history of the anschluss. I learned that Vail bought operating rights at Canyons several years ago, and when Powdr forgot to renew their lease to operate Park City, Vail swooped in and offered a lot more money. Powdr complained, but eventually sold their equipment to Vail and walked away. The moral of the story: Read your contracts carefully, and renew everything on time, especially if you have a decades-old sweetheart deal.
I started both days on the Canyons side, and ended up skiing almost the entire mountain. It was the middle of the week at the beginning of February, and it was bitter cold. Park City had gotten snow a day or two before I arrived, in the same storm that I drove through to get to Park City. At any ski area I've skied at in Colorado, that much new snow would be tracked up by about 10:30 on the first day, simply due to the massive number of skiers, but at Park City (especially in the middle of the week) I still found fresh snow to ski on.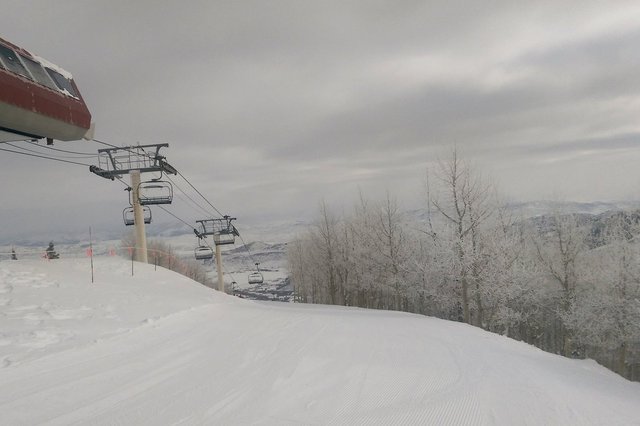 At the top of Saddleback Express lift, Park City
It took me some time to figure out where I really wanted to ski. The Canyons side seemed to be laid out poorly, with steep mogul-ridden trails ending halfway down the mountain in beginner trails. (I miss Copper Mountain's naturally-divided terrain, segregating trails by difficulty in distinct bands across the mountain.) The mountain seemed to sprawl without any distinct pattern or thought given to how one should get from one point to the other, not unlike Breckenridge twenty years ago (before Vail invested in fixing that particular problem). Part of Canyons was riddled with private luxury homes, giving ski-in/ski-out convenience to the occupants, but I found myself at one point trapped on the catwalks and slow trails in the area. But the snow was good, and the terrain interested and varied, and I enjoyed my time at Park City.
On my second day, I spent the middle of the day on the highest lift on the Park City side, Jupiter, a little two-person chairlift leading up to wooded glades and steep moguls. This was the terrain I liked: not crowded, still holding powder in the glades, between steep moguls just at the right level of difficulty. It was snowing softly as I skied, lending everything a magical aura.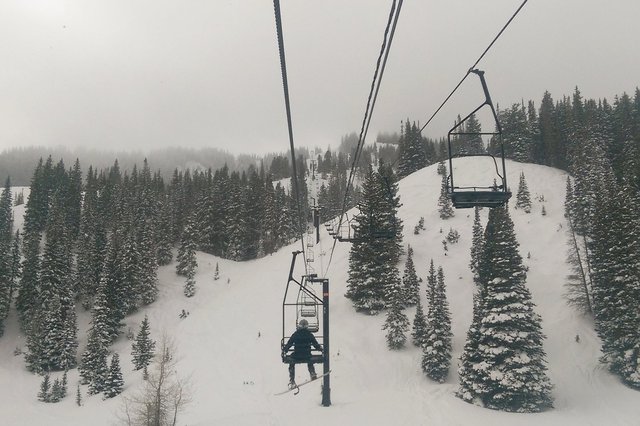 On Jupiter, ascending
I enjoyed my two days' interlude at Park City, leaving me prepared to drive the rest of the way to San Francisco to start my new job.