Elkhorn
Started: 2018-08-08 19:36:38
Submitted: 2018-08-08 21:30:47
Visibility: World-readable
22 June 2018: In which the intrepid narrator takes a kayak tour through a slough, drives along highway one, and returns home to San Francisco
On our last day in Monterey, we cleaned up our Airbnb and went to breakfast at First Awakenings, a cafe in what looked like a Victorian shopping arcade in Monterey (though it was weird to see the shopping arcade early in the morning, with all of the shops closed except for the cafe, and no one there except for the restaurant patrons visiting the restroom). We sat outside in the morning fog, which was quite pleasant (and also had the advantage of getting seated faster than waiting for a table inside). The food was good, and had the advantage of not having to cook for ourselves on the last day of our road trip.
As we were eating Calvin announced that he had left his Kindle tablet at the Airbnb. When we finished eating I checked the time and decided that we did have time to head back to the Airbnb and pick up the tablet before heading to our kayak tour (and we were still before the check-out time for our Airbnb), so we headed back to Pacific Grove (a short drive away), picked up the key out of the lock-box, rescued the Kindle, and continued on our way.
We drove out of Monterey to Moss Landing, a little town on the east side of Monterey Bay with a large slough (and a gas-fired power plant). I had reserved a spot in a kayak tour with Monterey Bay Kayaks through Elkhorn Slough for Calvin and I. (Kiesa thought that Julian would not appreciate being out on the water, and decided to find something else to occupy him.)
I checked in for our tour and Calvin and I were given wetsuits, jackets, and life jackets to wear. We met our guide and the other family of four who would be joining us on the tour, and headed down to the water to get orientated. We learned a few quick paddle strokes, and basic signals, and launched onto the harbor on our open-top double kayaks.
Our guide pointed out a raft of sea otters on the other side of the narrow harbor (and made sure we gave them a wide berth as required by Federal law). We paddled under the bridge carrying highway 1 and saw a large number of birds of various species. From time to time otters would stick their heads above the water, and once we saw a mother otter with a pup. We saw a bunch of harbor seals of various sizes hauled out on the shore, napping just above the water (but ready to jump back into the water at the slightest provocation).
We launched under gray skies, and the clouds cleared as we paddled. We turned around and headed back down the slough to the harbor, meeting Kiesa and Julian on the beach. After a picture, Calvin and I changed back into our regular clothes.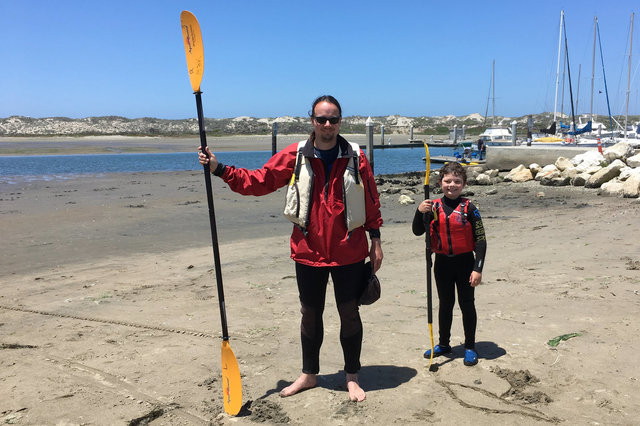 Jaeger and Calvin after kayaking in Elkhorn Slough
By this time it was time to eat lunch. We drove up California highway 1 towards Santa Cruz and stopped at New Brighton State Beach. We ate lunch on the beach, looking out on the water, on a perfect sunny summer afternoon, nestled between serious beachgoers with their beach chairs and canopies and awnings and volleyball nets and other equipment.
Although the beach faced Monterey Bay, the beach faced south, and was protected from the direct force of the waves by the landmass that the city of Santa Cruz sat on, rendering the open water relatively safe (at least compared to everywhere else we'd been that week). After a week with all the beach they could get, our children were not especially interested in playing on the beach or in the water, so after eating we returned to the car and continued driving home.
I drove home to San Francisco on California highway 1, right on the coast, continuing on the highway we'd followed as far south as Big Sur. North of Santa Cruz the highway wound over rolling hills between groves of eucalyptus trees, dotted with occasional orchards or farmland, all perched above the occasional beach nestled against the stunning sparkling blue water of the Pacific Ocean. I hadn't driven along this stretch of highway since moving back to California as an adult, until we reached Año Nuevo State Park (which I remember visiting as a kid, and which I visited two years ago). We continued northward along the coast, past Half Moon Bay and through the Tom Lantos Tunnels, dropping briefly into Pacifica, then merging onto I-280, entering San Francisco, and taking our exit in Ingleside, finally driving up our hill and returning home, after a week exploring the central California coast.