Paine Field
Started: 2019-06-19 19:45:46
Submitted: 2019-06-19 22:41:10
Visibility: World-readable
20 May 2019: In which the intrepid narrator flies to a new airport
I stayed in San Francisco for another day after running the Bay to Breakers, mostly so I didn't have to worry about getting a shower and checking out of my hotel and heading back to the airport immediately after running the race; though it came in handy when I learned of Willy's travel plans and met him for lunch on Sunday afternoon. This gave me one more day to sit with my old team in San Francisco -- and to grab an office hours slot to talk to one of the Production Tech Leads for career advice.
Instead of flying back to SeaTac, I caught a flight to the newly-opened passenger terminal at Paine Field. The airport is located on the south side of Everett, and my house in Wallingford is almost perfectly equidistant between SeaTac and Paine Field -- about half an hour in good traffic conditions. I tend to take Lyft to the airport because I don't like driving myself and parking, so it wasn't a problem to land at a different airport than I departed from.
Paine Field houses Boeing's massive widebody jetliner factory; I've taken the factory tour twice, in 2011 with Kiesa and in 2017 with Calvin. The passenger terminal, though, is new; it opened earlier this year with flights operated by Alaska and United. I cashed in United frequent-flier miles for the trip, and took a flight direct from SFO to Paine Field in an E175 regional jet, leaving SFO late in the afternoon and landing at PAE early in the evening.
We landed at PAE to the south. On our final approach, once we dropped through the low clouds that hung over the airport, I could see the 777x static test gantry outside the Boeing factory buildings, and more brand-new jetliners wearing the colors of more airlines than I could recognize lined up on the tarmac.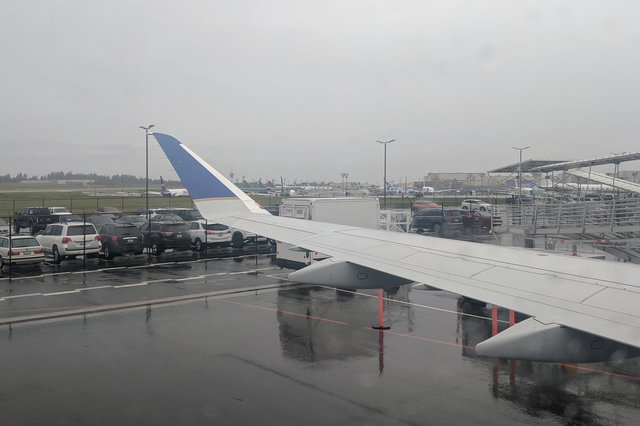 Rain at Paine Field
I also noticed, parked in rows wherever space was available, 737 Max jets lined up on the taxiways, awaiting the final resolution of the flight instability issues that caused two crashes and triggered the global grounding of the fleet.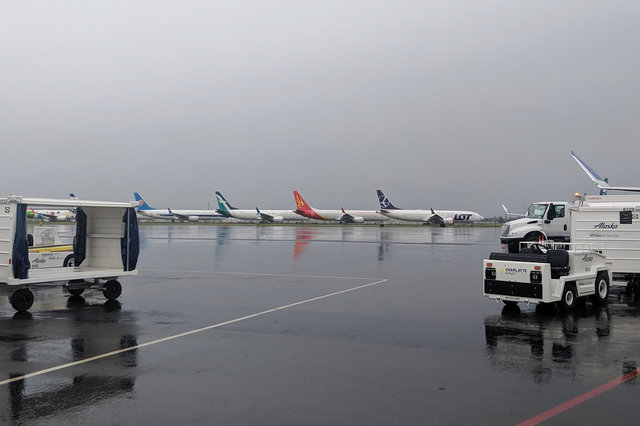 737 Max jets lined up at Paine Field
I caught only a brief impression of the tiny terminal before emerging onto the rain on the curb, where I caught a Lyft back to Wallingford.