Kindergarten for real
Started: 2021-03-09 20:59:54
Submitted: 2021-03-10 00:40:20
Visibility: World-readable
School, but in person!
After a year of remote education, Julian went to kindergarten in person today.
A year ago this week, as the COVID-19 pandemic was rolling over Washington State, Calvin's fifth grade moved online abruptly in the middle of the week, and even though Julian's preschool stayed open for the duration of the pandemic, we made the choice to keep him in the house by the end of the week, to limit our overall household exposure to the pandemic (at a point when we didn't really have a good model for risk and exposure) and in the hope that we would leave a slot in Julian's classroom for the children of an essential worker. Julian's preschool eventually tried to do some video classes but they weren't especially engaging and didn't capture much of his attention.
Julian turned five last spring — a couple weeks into the pandemic — so last fall he was the right age to enter kindergarten. We enrolled him in our new local public school, and he started Zoomtergarten in the middle of August. I was impressed with how well the school did in keeping Julian engaged and learning; he's working through reading sight words (and is writing his own story books, from eight pieces of letter paper stapled together).
At the end of the summer, California was still coming down from its summer peak. Our counties began stepping down the color-coded levels in California's COVID-19 restriction system, and schools began to think about talking about maybe opening at some point, but there were still a lot of unknowns to work through. Then October rolled around and case counts started to rise, climbing sharply through the fall (triggering a wave of closures and a new "modified stay-at-home order", with the "modified" being the surprisingly most important word), and everyone stopped thinking about reopening school at a time when we were battening down the hatches to weather the oncoming storm.
By January the worst of the winter peak seemed to be behind us, and the school started thinking again about opening. They had a plan in place by the time that the state updated its school reopening guidelines (and then there was a week or two while the updated guidelines were a moving target and the school scrambled to figure out what they were doing); and finally they announced their plans for a hybrid reopening. Julian's class of sixteen kindergarteners is split into two cohorts of seven and six kids, each attending school two days a week, plus a third group of three who will remain fully remote.
Last Friday, Julian went to school for the first time to attend orientation for the newly-in-person school experience. (It wasn't quite the first time he'd been on campus — Kiesa took him to pick up school supplies one day, and they wandered around the buildings, not really knowing where anything was.) I took Julian to kindergarten orientation and dropped him off in the very-efficient kindergarten drop-off lane. (It was so efficient that I didn't get a good chance to take a picture while I was dropping him off; besides, I wasn't supposed to leave my car.) Sharon picked him up an hour-and-a-half later; Julian was excited by spending time at school and seeing people his own age again.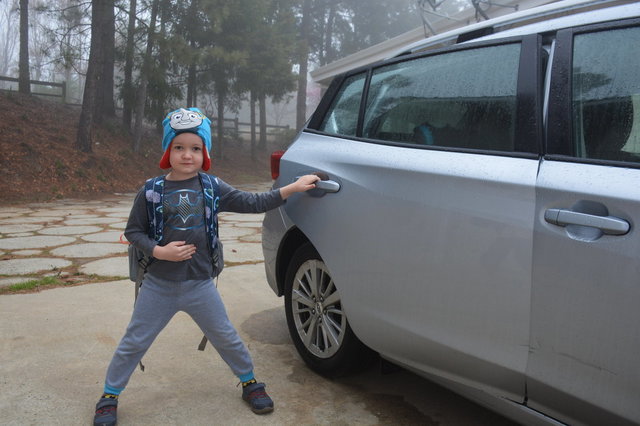 Julian gets into the car for kindergarten
Today Julian joined the rest of Cohort 2 of his kindergarten class in person for his first real day of school. Sharon dropped him off at school; I walked out to the car to get a picture for the occasion. It was a foggy morning at our house, with water dripping from the trees giving the impression of localized rain, portending the approach of another winter storm system.
It wasn't the normal "first day of school" photo, but it's a good step forward in the midst of a very abnormal year.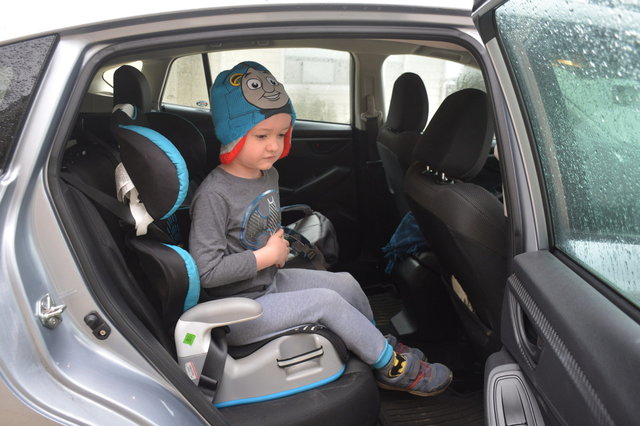 Julian in the car ready to go to kindergaten