This fall's hot new seasonal vaccines
Started: 2023-10-11 22:16:10
Submitted: 2023-10-11 22:53:29
Visibility: World-readable
Another fall, another new COVID-19 shot
I got my 2023 COVID-19 vaccine shot yesterday.
We've come a long ways since the first COVID-19 vaccine I received at the mass vaccination clinic at Levi Stadium in Santa Clara. That clinic was the middle of a months-long carefully-staged rollout trying to target the most vulnerable (and/or most deserving) people first. This year, once the vaccine was approved, it's a free-for-all; but not everyone has inventory, and paying for the shot (now that the federal government has withdrawn financial support for the vaccine) is more complicated than it ought to be.
My insurance is Kaiser, which has its advantages, but they really want me to come to them for all of my health care needs, even though they didn't have the new COVID-19 vaccine right away. (They would, grudgingly, reimburse me for the shot at a pharmacy, but only because the state of California made them.) Kaiser said some confusing things about the future availability of the COVID-19 vaccine while promoting their flu shot clinics, then quietly updated their flu shot clinics to also provide the COVID-19 shot. They didn't even want me to make an appointment; I could just show up and expect to get a shot.
So that's what I did, late Tuesday morning this week, at the Kaiser medical office in downtown Santa Cruz. I took the elevator to the fifth floor and found a bored-looking nurse sitting at a laptop in a corner of the otherwise-empty waiting room next to a partition with "Flu shot clinic" printed on a piece of paper with "COVID-19 shot" hastily added below. The nurse scanned my Kaiser card, confirmed that I wanted both shots, left briefly to get some important supply (possibly a vaccine vial), and gave me both shots in my left arm. I briefly considered whether I wanted both shots in the same arm, and whether I wanted that to be my dominant arm; but the most salient consideration seemed to be sleeping; if I had to choose I'd prefer to be able to sleep on my right side.
And then I was done. I didn't even bring my COVID-19 vaccine card because they don't really matter any more. (I might be able to access my vaccination record online but no one cares.) My arm is a little sore but I'll be better protected against this year's seasonal flu and this year's COVID-19 variants. I guess I'll do this every year now, which is fine with me.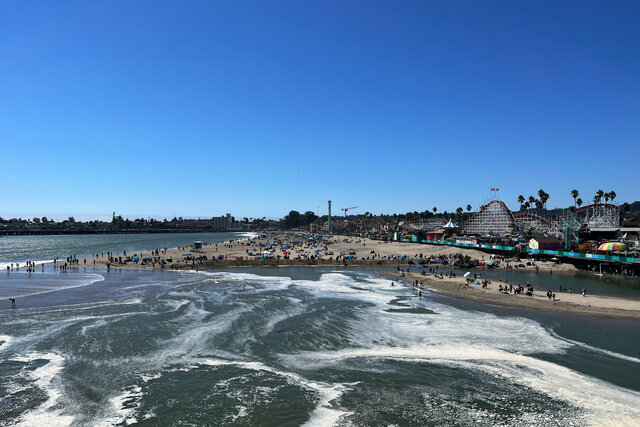 Santa Cruz Main Beach packed for Labor Day