Cascade Volcano Day
Started: 2008-09-14 16:22:52
Submitted: 2008-09-14 21:17:42
Visibility: World-readable
When my family dropped through Colorado on their way from Oklahoma to Walla Walla last month, Willy mentioned that he was interested in climbing Mount Adams in September. I was vaguely aware of Mount Adams; it gets less notice than its sexier potentially-active Cascade stratovolcano cousins Mount Hood, Mount Rainier, and the active-within-recent-history Mount Saint Helens. I looked at my calendar and my United frequent flier mile balance and invited myself along. I ended up with a mostly-free flight into Pasco.
I did most of my packing on Wednesday night, two days before leaving. My packing was complicated by the fact that I would be traveling first by air and then car-camping. My packing style therefore trended more towards backpacking than normal kitchen-sink car-camping, but filtered by the things I could actually fit in my large backpacking backpack (as opposed to lashing onto the exterior of the pack, such as my tent) and things that I could actually carry in the hold of an airplane, which excluded camping fuel. Willy promised to bring a camp stove, fuel, and tent.
On Thursday evening, shortly after attending BLUG, I learned conclusively that no one would be available to pick me up after my flight landed in Pasco at 10 since my three family members living in Walla Walla were working until noon. Willy was planning on leaving Walla Walla around 1400 and dropping by the Pasco airport to pick me up by 1500. I looked at rental cars and decided that renting a car for five hours was probably a bit silly but hanging out at Pasco's small regional airport for five hours was simply pathetic, so I reserved a rental car and called Swinyar to arrange a rendezvous for lunch.
Friday, 12 September 2008
I used my annual employee-designated holiday to take Friday off. (These holidays are separate from my normal vacation balance and allow my employer to "respect the diversity of its workforce" (or something like that) by taking their own holidays not officially recognized.) I declared the day to be "John Adams Day" to facilitate my travel to climb the mountain named after the former president. (If I travel to the Pacific Northwest to climb another stratovolcano next year, I may retcon the holiday as the annual "Cascade Volcano Day".)
My alarm went off at 0530, but I was already awake, despite getting a scant six hours of sleep. I showered, verified that my last-minute desperate attempt to revert Illyria from Debian Unstable to Debian Testing in hopes of getting a working X11 driver were successful, finished my packing, and headed out the door towards the airport shortly after 0600. (I wanted a notebook for my pair of two-hour plane flights, but I though Illyria would be a superior choice to Portico given Illyria's smaller size and lower replacement value should something untoward happen while Illyria was sitting at the camp site while I climbed.) It was raining as I set out; like the previous night, I felt more like I was in Seattle than Longmont.
I arrived, checked my bag, passed through security without incident, and took the train to Concourse C for breakfast at Einstein Bagels, then took the train back to Concourse B. I walked to the very east end of the concourse to the shiny new regional jet terminal. As I sat eating my yogurt with granola and bagel, I watched a guy show up at his gate after the door was closed; even though the plane was still sitting on the tarmac, the gate agent wouldn't let him on the plane. I wasn't close enough to hear any of the words they were saying, but the general idea was clear.
At the appointed time, I crossed the tarmac through the rain to the CRJ-200 waiting to take me to Pasco. I finished my weak latte after takeoff, read an interesting mini-article about "German-style board games", including Settlers of Catan in a recent edition of The Economist and spent most of the flight documenting Megafest 7.1. I spotted a wild fire somewhere over Idaho and saw (and photographed) the Walla Walla-College Place Complex while on descent into Pasco. I couldn't specifically identify anything on campus other than the WEC.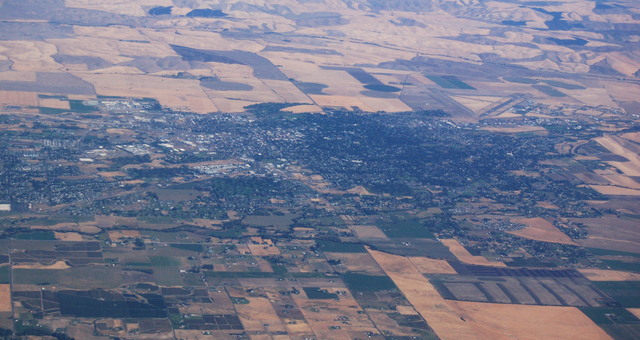 Walla Walla from the air
After landing in Pasco, we deplaned via a long serpentine jetway that snaked all the way around the end of the concourse. I quickly saw the benefits of a small regional airport: My bags arrived quickly (though not before giving me a chance to post the changelog I wrote on the plane) and the rental car counter was immediately visible from the baggage claim. I was in my rental Tarus on the road to Walla Walla roughly twenty minutes after my plane was scheduled to land.
In College Place, I drove down College Avenue, saw the shiny new administration building, and parked on the south side of Kretchmar Hall for my walking tour of campus. I walked past the new administration building, studied it from an appropriate distance, and decided that it was entirely too clean to be a respectful place of higher education. (They tried too hard to make it look like the old administration building but failed to capture its soul.) I circled around the library, past Sitner Hall, and found an unlocked door of Kretchmar Hall. I found Dr. Aaby watering the plants outside the computer science office and talked to him, bringing him up to speed on what I was doing in Walla Walla at that particular moment and the recent events in mine and Kiesa's lives.
I dropped by the engineering offices and found my father in the dean's office, complete with his name on the door. I needed to run to make my lunch rendezvous, but he took me around the office to see Dr. Cross and Dr. Sih, two professors from my undergraduate days that hadn't yet headed out for the day.
I headed across Walla Walla to Pacific Express and found Swinyar and Heather waiting in a booth. We talked about our lives recently and generally enjoyed chatting for an hour or so.
I headed back towards College Place and found the house my parents just moved into, just outside of College Place itself in unincorporated Walla Walla County with a Walla Walla mailing address. I found Willy in the garage preparing for our expedition to Mount Adams and found my parents inside. My mother gave me a tour of the inside and outside of the house and I showed them my pictures from my climb of Longs Peak three weeks ago.
Willy finished arranging his stuff and we headed westward. We caravaned to Pasco's airport, where I dropped off my rental car after five hours and hopped into Willy's car. (Once again, visiting a small regional airport has its advantages.) We got slightly confused trying to head south-west toward I-84 for our westward trek but ultimately found the appropriate Interstate and headed west. We got stuck in traffic just east of Hood River; I called Kiesa to check the Internet for me and learned that there was a small wild fire just west of Hood River that had closed the Interstate for a few hours and now was closing one lane.
We stopped for gas in Hood River and headed north, across the Columbia River, and continued north to Trout Lake. We self-registered for volcano permits and continued north to the South Climb trailhead and the adjacent Cold Springs campground. We arrived well after dark; we saw cars parked at random and tents and campfires scattered in the nearby woods but didn't see much that looked like a designated campsite, so we found a flat spot of ground to pitch our tent and called it good enough. I tried to figure out how to light the old camp stove Willy brought from our parents' camping gear. It took me a minute to remember that I needed to dump camp fuel in the little basin around the top of the reservoir where the nozzle emerges; this heats and pressurizes the fuel.
After eating, we set up the tent (also part of our parents' camping gear) and went to bed, ready for an assault of our first stratovolcano in the morning.