High School
Started: 2023-02-18 14:19:31
Submitted: 2023-02-18 15:59:28
Visibility: World-readable
Considering Calvin's options for high school
This fall, Calvin begins high school.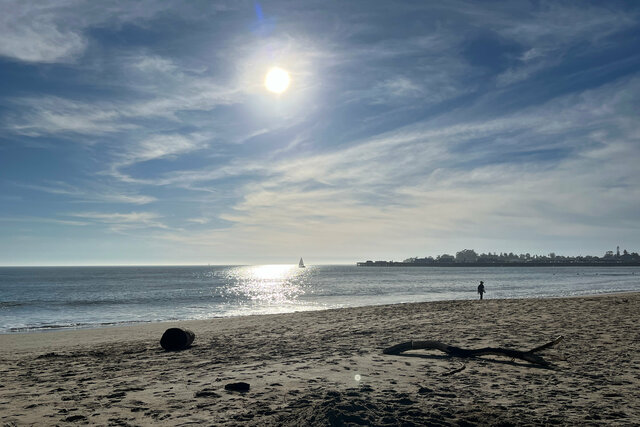 Sun over the ocean at Seabright Beach
(It's certainly premature to take a victory lap and declare that we've successfully raised a child, but it does feel like we've accomplished something by keeping Calvin alive for the last fourteen years.)
Now that he's entering high school, Santa Cruz City Schools is making it clear that we have some opportunity to choose a high school for Calvin, starting with the three high schools in the district. They'll give Calvin preferential enrollment at our attendance-area school, Harbor High School, but we can also ask for him to be enrolled at another school. The district sent us a letter announcing open houses for each of the three schools at the end of January. I wanted to make sure I understood this choice, so I took Calvin to two of the open houses.
The first open house was Santa Cruz High School, the original high school in town, in an old stately building on the other side of town.
When we arrived at Santa Cruz High for the open house it wasn't immediately obvious where we were supposed to go, but we eventually found our way following other people to the gym, built on a section of campus down the hill from the main building. In the gym we watched a presentation about the school, featuring the principal and some students, then split up into groups (divided by the letter given to us on a sheet of paper as we entered the gym) for a tour of campus.
Our group exited the back of the gym and began climbing stairs. We climbed two flights of stairs inside the gym, then exited the building onto a ramp that took us into a tower where we kept climbing stairs, eventually ending up at a bridge that deposited us on the edge of main campus. Our student guides took us to the music room for a presentation by teachers in band, art, theater (and yearbook, which ended up there for some reason that wasn't obvious). We had a carefully-choreographed schedule taking us to eight stops around campus with twelve minutes for each stop then five minutes to get to the next location.
After band we entered the main building for presentations on social science, world languages (they taught both Spanish and French), English, and PE/Health (presented in the auditorium, which looked considerably newer than the rest of the building). In the English room we sat in the desks that students sat in, which reminded me of the desks I sat in when I was in high school: the chair and the desk were attached in such a way that they both sat on a total of four legs between them, with the desk and chair cantilevered out over the open space between them. The only way into or out of the the chair was on the left side; depending on how big the desk was, it clearly favored right-handed students. I wasn't sure I had sat on any of these desks since high school.
We left the main building for presentations on math, science, and finally career technical education, which included auto shop, wood shop (featuring Calvin's former middle school wood shop teacher), and bike shop.
The most interesting feature of Santa Cruz High School is the class schedule. They have set up what they call an "accelerated block schedule", which converts what would otherwise be a one-hour year-long class into a semester-long ninety-minute class. Students get four classes per semester, then switch classes the next semester. All of the teachers and students talked about how great they thought the schedule was, though it sounded like they had only been using the schedule for a couple of years.
All of Calvin's attendance-area friends from middle school are planning on going to our attendance-area high school, Harbor High School, so i took Calvin to their open house as well, two days after Santa Cruz High School's open house. (We skipped Soquel High School's open house; it's in the district but it's a couple of towns away so it seemed especially unlikely that we'd want to go there.)
Harbor High School is the newer high school in town, though it was built in the 1960s. Because we're in coastal California with mild winters, much of the school is built with external breezeways connecting classrooms and other buildings, almost entirely unlike the enclosed high school I attended in Colorado. (Being mostly outside means it's not a prison-like Brutalist monument like my high school.) There were banks of lockers under a breezeway, and I wondered how well the lockers (and their contents) handled the winter storms when rain does fall in California.
We started in the multi-purpose room at the center of campus; once again I followed the crowds and ended up in the right place. I was disappointed that we didn't get a large packet explaining the school, like we had at Santa Cruz High School. But the format was the same: remarks and presentation by the principal (followed by an immediate Spanish translation), then we broke into groups to tour the campus.
Harbor is very proud of its new IB program, and the fact that they put everyone in IB classes regardless of academic ability so no one gets left behind (which seems like a bold strategy, I hope it works out of them), but I think this is only the second year they've had a full IB program.
We started our tour in the library (which included a presentation on sports), then rotated into the main classroom building for presentations by the teachers on social studies, English, math, theater/band/art, career technical education (which included the same wood shop and bike shop teachers we saw at Santa Cruz High School, plus photography and graphic design, and also yearbook), science (including an experiment to check whether ice would melt faster on a block of wood or a block of metal; the metal had more thermal mass and was a better conductor of heat than the wood so it melted the ice faster), and finally world language (singular), Spanish.
After our whirlwind tour I felt like I understood the school better, and I'm happy to support Calvin's decision to attend our local high school.