Eurovision / Hot Chip
Started: 2023-06-07 20:26:09
Submitted: 2023-06-07 22:56:30
Visibility: World-readable
How watching Eurovision led me to see an English synth-pop band in Santa Cruz
This year I watched Europe's biggest music contest/party, Eurovision, tape-delayed into my time zone. The first two semi-finals, with 15 and 16 songs each, were broadcast live at noon Pacific time in the middle of the week, when I was otherwise engaged at work (and my kids were at school, and Kiesa was in Los Angeles attending a conference). As soon as we finished supper I sat down in front of the TV to stream the replay on Peacock (the streaming service that I subscribe to every May to watch Eurovision, then cancel by the end of the month until next year). Calvin seemed excited to watch, but Julian was not sure he wanted to watch; he wandered around the house and dropped by near the end of the music, when we were watching the results of the voting to determine which countries would advance to the final on Saturday.
Last year Ukraine won (in a massive landslide in the popular vote, driven by pan-European sympathy while they were being invaded by their larger neighbor), so by Eurovision tradition they would get to host the show this year; but there's still an active land war so they decided to co-host the contest with runner-up the United Kingdom in Liverpool.
This year I watched a couple of the music videos in advance to get an idea of what I would see, but it was still interesting to see how their live stage presentations changed from the music video. Not all of my favorite songs advanced out of the semi-final; I liked Ireland's rock anthem "We Are One", but voters decided they liked others better (including Croatia's completely-bizarre anti-war song involving singers marching across the stage pursued by a performer brandishing rockets at them). My tastes trend towards rock anthems, and this was a ballad-heavy year, with a singer standing alone on the stage singing soulfully into a microphone (or, in the case of Sweden, trying not to be crushed by a giant block suspended over them on the stage).
My favorite by far from the second semi-final was Australia's prog-metal band Voyager playing their song "Promise" (or as I saw on Twitter, "DRIVING DOWN THE NIGHT CITY HIGHWAY WITH YOUR KEYTAR RIDING SHOTGUN. HELL YES"). They made it through to the final, giving me a chance to see them again, after listening to the song on repeat before I got to see it again on stage.
The final was broadcast live starting at noon Pacific time on Saturday, 13th May. Julian was invited to a birthday party at noon, inconveniently timed against Eurovision, so we intended to watch the replay tape-delayed when Kiesa and Julian returned. I skipped the first hour of the live show, then sat down just in time to see Australia perform live, followed by the second half of the show. I augmented my viewing with a proper, real-time second-screen experience on Twitter. Some people on Twitter were drawing Eurovision in real time, spending three minutes on one image from each country's act, then posting it in real time before hurrying onto the next one. I was amused by what each artist chose to depict from the
My other favorite from the final was Germany's "Blood and Glitter", a glam metal song with a lead singer in a spectacular costume comprised of a red latex bodysuit with wings matching makeup and hair. I was impressed by the staging of France's entry, which put the singer on top of a pedestal towering out of the stage (with a safety tether, I noticed in one of the rare shots from the side, because that fall would be survivable but it wouldn't be fun), then turned on a giant light in the pedestal as if she were standing on top of a lighthouse on stage.
Traditionally Eurovision lets each participating country vote, both with a national jury and a popular vote. This year they decided to let the rest of the world vote, and included our votes as equivalent to one country's popular votes in the final tally. As a card-carrying member of the rest of the world, I downloaded the app and paid €8.91 for nine votes distributed between Australia, Austria (the bizarre "Who the hell is Edgar?"), Germany, Finland, and France.
Around this point Kiesa and Julian returned, and I attempted to rewind to the beginning of the stream, but I could only rewind two hours, and we were closer to three hours in at this point. We decided to come back and watch the whole show on Sunday; but I sat down and watched the rest of the show in real time. This gave me the chance to see the rest of the interval acts, and then the interminable voting, complete with an elaborate survey talking to every single Eurovision country (there were 39 of them this year), who provided a representative in front of a green screen showing some national symbol (at night, because it was after midnight in most of Europe by this time) with an obligatory satellite delay to announce which country they were giving twelve points to. The favorite of the national juries was Sweden, with Israel and Italy in the second tier, and Finland and Estonia in the third tier. In the popular vote, Finland finished a strong second (an overwhelming favorite by the popular vote), but Sweden still finished first.
I am advised that one of the key parts of Eurovision is the crushing defeat when one's own favorites don't win, so I can at least say I've had an authentic Eurovision experience.
One of the things that watching Eurovision reminded me of, which I should have know already, is that I like a lot of music, not just the several-dozen groups whose music I've bought recently and whose names I would recognize. (Unlike The Onion, I would give music a rating even higher than 6.8. I would even go as far as to "[describe] the entire art form as 'transcendent'".) But most of the bands I recognize don't make it to Santa Cruz (or even to the greater Bay Area), and when I look at the listings for local live music venues on both sides of the mountain I see a lot of names I don't recognize.
Before I came down from my post-Eurovision music high, I took another look at the listing for Santa Cruz music venue Catalyst and found an upcoming show for an English synth-pop band called Hot Chip. Their music videos on YouTube looked promising, but there were only a couple of recent videos, and I get kind of distracted watching the story in the video. Then I decided to do what everyone else has apparently already done, and sign up for a streaming music subscription so I can sample an artist's entire discography. I picked Apple Music, on the theory that it seems to be less evil than the alternatives (the articles I found indicated that it pays artists more per stream), and spent Monday afternoon grazing their best-of playlist on Apple Music.
And that's how I ended up seeing Hot Chip at Catalyst in downtown Santa Cruz on a random Monday night in the middle of May.
(The photo of Catalyst's marquee that appears on Google Maps shows an unannounced Third Eye Blind concert last summer that no one told me about. Aside from that concert, I've rarely recognized any of the names on their schedule.)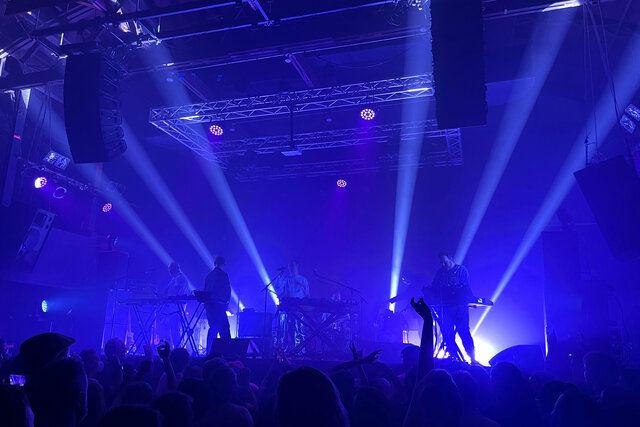 Hot Chip on stage
My main impression of the concert was five guys in their forties on stage playing keyboards. Most of the time I couldn't tell who was playing which voice, because each keyboard was programmed to do whatever the song needed, and the angle of the keyboards on the stage made it difficult to see them actually playing the keyboards and and correlate it with the music. Not that it really mattered, but part of my music-listening brain automatically tries to decompose each part of every song I hear. (Another part of my music-listening brain latches onto the beat and starts counting the time signature. A different part identifies the chord progression in the song and tries to guess what comes next and is extremely satisfied when it guesses correctly.)
I didn't have enough time with the band's catalog to recognize any of the songs, but I still enjoyed the beat and the groove and the chord progression, and the rest of the audience was also clearly enjoying themselves. So the whole thing was worth repeating, next time I find something on Catalyst's listing that sounds interesting — and it's a lot easier to get to downtown Santa Cruz than Oakland or San Francisco on a random weekday evening.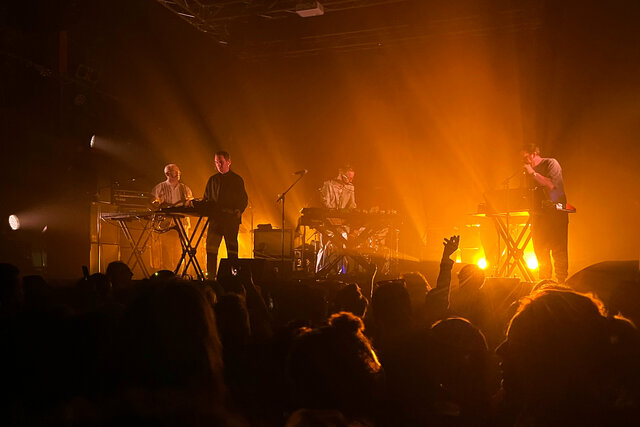 Hot Chip on stage at Catalyst
(Now the problem I'm having with Apple Music is discovery, and retention: there is so much music that it's hard to make headway, and if I do find something interesting it's hard to retain a bookmark for later. I miss being able to mark songs with stars, and search for those star ratings later. I need to figure out a better way to organize the now-endless well of music I have access to.)