Gear
Started: 2023-06-18 19:39:30
Submitted: 2023-06-19 20:06:39
Visibility: World-readable
Preparing to go backpacking, for the first time in (mumble) years
California is a large state, filled with a wide variety of public lands available for camping, but the number of available campgrounds has not kept pace with the state's population growth. As a result the available campgrounds are usually booked months in advance, up to six months in advance for state and national parks, the instant they become available. This required a level of advance planning that typically eludes me, but this year I sat down well in advance of the summer to plan key parts of the summer, and set calendar reminders to attempt to reserve campsites when they became available. This is when I came up with the idea to go backpacking at Point Reyes National Seashore. The seashore is administered by the Park Service and offers four different backcountry campsites in the forested eastern arm of the park, stretching along the east side of Drakes Bay between the bay and the San Andreas Fault.
At Point Reyes, the campsites were released in tiers: some were released three months in advance, some fourteen days in advance, and one each morning. But I didn't see when the campsites were available, which seemed important, if I were to set an alarm so that I could try to race against everyone else in the Greater Bay Area trying to reserve a site at the same time. Some trial and error later (and anxious reloading, to check whether the sites were released at midnight Eastern time, or midnight Pacific time) I finally spotted the message that the sites would become available at 07:00 Pacific time. I woke up early on the morning of the 9th of March to check recreation.gov. By the time I reloaded the site, a minute after 07:00, many of the sites had already been snatched up but I was able to get a site at Glen campground, which promised a small campground with twelve sites nestled between soaring oak trees, along with services not often available in the backcountry: a pit toilet, trash service, and running water. (Much of the forest is designated wilderness, but there are strategic cut-outs in the wilderness allowing dirt service roads to all of the campgrounds.)
The last time I went backpacking, Calvin was five years old, just old enough to walk 1.4 miles to the campsite himself without carrying any of his gear. (Julian was not yet born.) Kiesa and I had backpacks we could use (though they lacked new features like hydration bladders), but I needed to assess all of the kids' gear.
As the date of our reservation grew closer, I began to consider what gear we needed. I upgraded Calvin to an adult-sized Big Agnes sleeping bag and air-core sleeping pad, and handed his child-sized sleeping bag down to Julian. I have two mid-sized, 50-liter packs: a Kelty pack (which I used for a decade until I realized that my torso was too long for the pack, so I couldn't adjust the pack so the weight rested properly on my waist) and a GoLite overnight pack (which I bought in 2012 and quickly became my preferred pack). Calvin fit both packs, and I figured that either would have enough capacity to fit everything he needed to carry for two nights. (My opening bid was that each kid got to carry their own clothing, bedding, water, and snacks; and we'd try to distribute other gear as appropriate.)
I ordered Julian a REI Co-op Tarn 40 Pack - Kids'; and when it arrived I was relieved to see that the tag said it ought to fit kids 6 to 11, which clearly includes Julian.
Neither of our existing tents were suitable for backpacking as a family: the three-person tent was too small, and the six-person, two-room car-camping tent was way too heavy. I ordered a lightweight four-person REI tent (on sale, at the end of May, along with the rest of the gear I bought), and when everything arrived I set it up on the patio and put all four sleeping bags. The floor of the tent was just big enough to fit four sleeping bags, without much extra room, which would be cozy, but good enough for two nights' backpacking.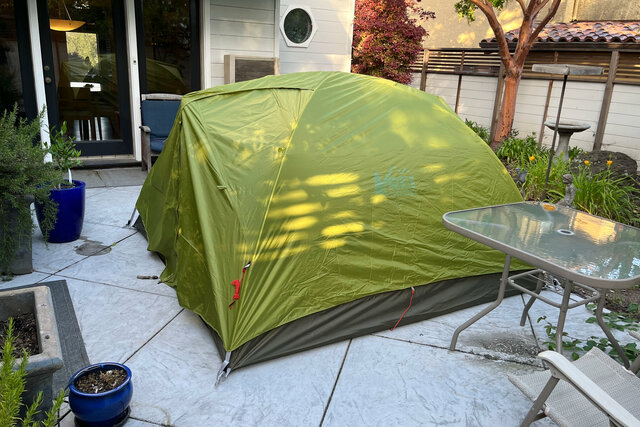 REI Trail Hut 4 Tent set up on the patio
When I pulled out our camping gear to inventory it (so I could figure out what I needed to buy) I discovered that we had neglected to unstuff our sleeping bags when we came back from our last camping trip (at Lake Tahoe) two years ago. I pulled out the bags and tried to figure out how fluffy they were supposed to be or whether we'd destroyed all of the stuffing by failing to take care of the bags. Our bags all had polyester fill, which is probably somewhat more tolerant of being squished. I bought the "tech wash" laundry detergent Big Agnes recommended and carefully washed our sleeping bags, one at a time, then put them in the dryer on low heat and hung them up to dry. It wasn't clear that the bags were any fluffier when they emerged, but at least they were clean.
The last piece of gear I needed to check out was my camp stove. I discovered, to my dismay, that the pump no longer worked so I couldn't get it up to pressure to light it. I ordered a pump repair kit to try to repair the stove (or, if that didn't work, I'd go buy something off-the-shelf at REI). The new pump sealed so well that I had to liberally oil it to get it to work at all; and then I had no trouble pumping the stove up to pressure. It lit right away.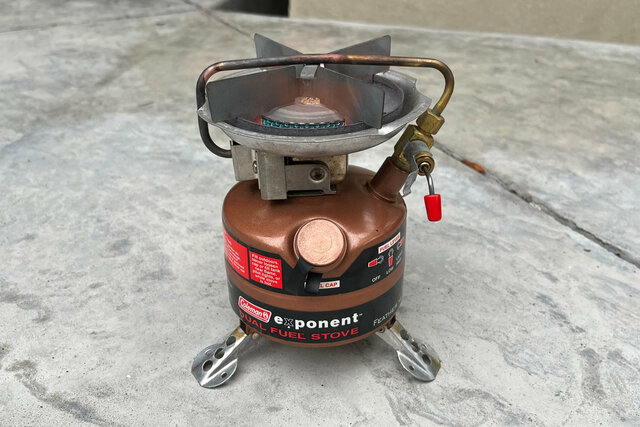 Colemon Exponent Feather 442 stove
Then I wondered how much fuel I'd need for two days' backpacking for four people. (We planned on bringing off-the-shelf backpacking meals, so we only really needed to boil water to rehydrate the food.) I found 15-year-old notes that told me that I burned 151 grams of fuel to bring 6 liters of water to boil, which works out to 34 ml of white gasoline burned for 1 liter of water. Using that as a ballpark, I added up all the water we'd need to heat for all of our meals (including hot chocolate and coffee) and came up with a rough estimate of 300 ml of fuel. This was slightly more than the capacity of my stove by itself (before I added a 50% safety margin because I had only one data point), so I looked for my extra fuel bottle. I thought I had seen it somewhere in the garage in the past year, but it failed to appear. I made one last trip to REI to pick up a spare fuel bottle, and filled it up.
In the weeks leading up to our scheduled trip there were several moments at which I was not sure we would actually be able to keep our reservation. The first was when, on the last week of school, Julian injured his knee and urgent care thought he might maybe have a fracture in his femur and put him in a splint. (His pediatrician took a look at the xray the next day, decided the blip on the xray was just the growth plate near the end of the bone, and muttered darkly about urgent care over-diagnosing.) The next was the end of my clean run through the pandemic when, at various points, I wondered if some subset of the family would not recover in time to go camping. (As a backup plan I considered going backpacking by myself, or with whatever subset of the family was well enough to attend.) In the end, everyone was cleared to go backpacking.
When we packed our backpacks the night before we left, Julian ended up carrying just his clothing, bedding, water, and snacks. (His sleeping bag took up the majority of the space in his backpack.) I adjusted my GoLite pack to fit Calvin's torso, and he had enough extra space to carry the bowls and cups. Kiesa took the rest of the cookware, plus all of the backpacking meals, possibly in an attempt at lightening her load by the return trip. I carried the stove, fuel, water pump, and the tent.