London, day 8: 20 September 2006
Started: 2006-09-25 06:56:40
Submitted: 2006-09-25 07:02:52
Visibility: World-readable
1410 BST 21 September 2006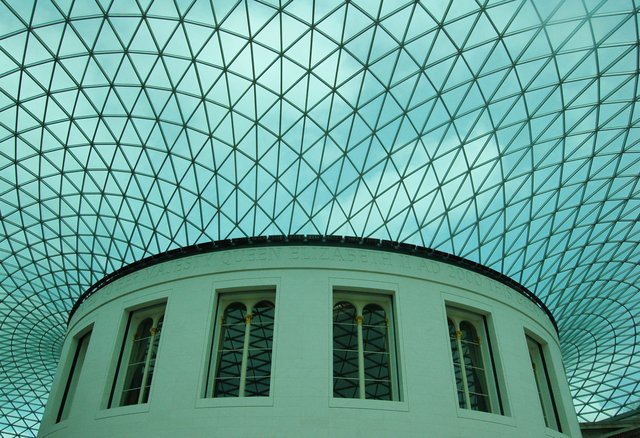 British Museum centeral atrium
Still a day behind; waiting for boat ride down river to Greenwich. Yesterday we started at the British Museum, with audio tours pointing out the highlights. The very first was the famous Rosetta Stone, now synonymous with translation-assisting artifacts. Saw plenty of famous and obscure artifacts from Egyptian, Greek, and Assyrian civilization, including large chunks of the Parthenon that is now the subject of an intense debate between Greek cultural authorities and the British Museum. Greece wants it back, and the British think they're the best people to safeguard it for future generations. We also saw various artifacts from English history, and some Korean artwork, including modern art from the current Communist government.
1455 BST 21 September 2006
Best. Vacation. Ever.
Right, where was I?
After seeing the highlights indicated by the Highlights Audio Tour, we wandered out in search of food. Kiesa found an interesting place for lunch in her little restaurants book (well, I bought it at Powell's, but Kiesa has taken it over to figure out where to eat); along the way there we stopped to check out "Eat.", a little chain with pre-packaged lunch food. I had my daily cup of coffee, a bit late since I wasn't sure I'd be able to finish a morning cup of coffee before we reached the British Museum. That may have proved to be a bad idea for my caffeine habit.
After eating, neither of us had enough energy to do anything else, and we couldn't come up with ideas of things to do that didn't involve walking and standing (aside from seeing a show, and that cost entirely too much money), so we headed back to the hotel for a relaxing afternoon. Kiesa took a nap and I read, downloaded pictures from my camera, and researched what to do in our remaining time in London. In the evening, I took a bath to soothe my over-worked muscles while Kiesa hit our local mini-Tesco for supper.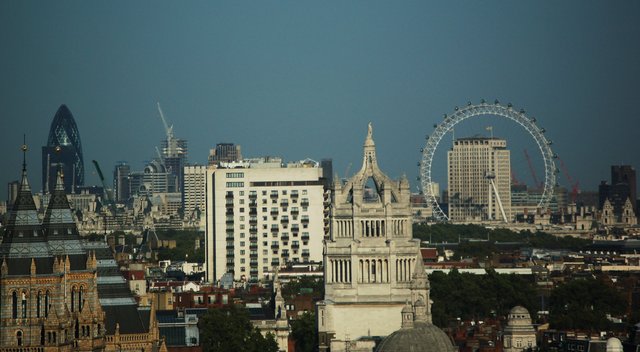 Central London from our hotel window
Tube trips:
Gloucester Road to Holborn via Piccadilly.
Tottenham Court Road via Central to Bank; via Waterloo and City to Waterloo; via Jubilee to Westminster; via District to Gloucester Road.