Leaving Hong Kong
Started: 2013-01-15 20:51:53
Submitted: 2013-01-15 22:26:12
Visibility: World-readable
In which the intrepid narrator bids farewell to Hong Kong after ten days in the Special Administrative Region and fails to visit the giant Buddha on Lantau Island
After ten days in the Hong Kong Special Administrative Region, it was time to bid the former colony farewell and head across the South China Sea for a few days in Taiwan on our way back home. I think we spent about the right amount of time in Hong Kong, enough that we could see what we wanted to see without feeling rushed and not so much that we got bored.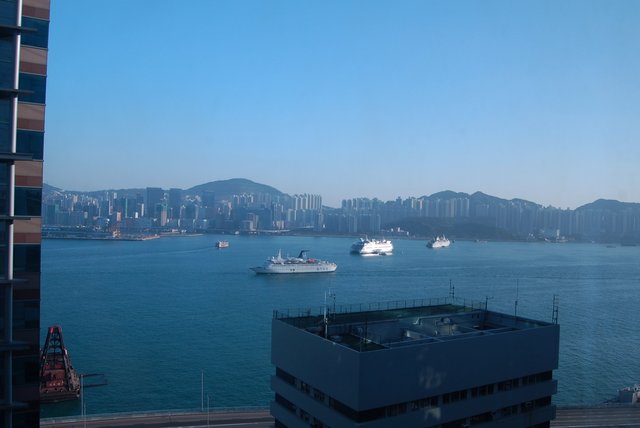 Victoria Harbour from the hotel window
We ate breakfast in our hotel's restaurant, finished our packing, and checked out, leaving a sizable charge on my credit card. (In preparation for this trip, I found a Bank of America Visa chip-and-signature card with no international transaction fee. Every time a merchant used the embedded smart card to complete a transaction, rather than using the magnetic strip, I felt smug.)
We took a taxi from the hotel's taxi stand (barely fitting our luggage into the tiny Toyota; I believe the driver used a bungee cord to hold the trunk shut, and I had visions of our luggage strewn all over the road) to Hong Kong Station, where we checked into our flight (at the train station, still on Hong Kong Island) and learned that we didn't have a window seat for Calvin's car seat, so we had to check it. We took the Airport Express train from the station straight to the airport, then bumbled around a bit trying to find the baggage storage counter (which I expected to be easier to find), where other passengers seemed horribly confused by the whole process and took much longer than seemed strictly necessary. We walked through the cavernous halls that we'd first encountered when we arrived ten days prior, which seemed somehow less foreboding in the late-morning light when we'd actually had a decent night's sleep.
By this point it was late morning, and our flight didn't depart until early evening, so my plan called for us to visit the giant Buddha in the middle of Lantau Island, a short distance from the airport. We caught a bus that meandered through the airport and the adjacent office buildings before finally depositing us in front of the Ngong Ping 360 cable car (really, a gondola with a funny name). I gaped when I saw the line, snaking up and over and back and forth a pedestrian bridge, and inquired how long the wait might be. An hour and a half, I learned, which would eat up almost all of the time I was actually planning on spending at the top -- assuming we could actually get down in a timely fashion (which seemed unlikely, given the number of people that were likely to be at the top). This seemed unworkable, so we retreated to have a pre-lunch snack in the sun while we waited for my glorious plan to catch up with reality. This accomplished, with no other options presenting themselves, we looked around the local nexus of commerce in search of something interesting and failed; there was a mall with a sizable (and packed) food court but nothing looked especially vegetarian.
This left us with nothing to do but head back to the airport, a couple of hours early. We caught the bus back, picked up our luggage, and ate an acceptable lunch at a French-inspired deli on the arrivals level before taking the escalator up to the departures level, where I looked through a bookstore and eventually bought a copy of The Economist. Then we spotted a restaurant with vegetarian entrees clearly marked on the menu and decided to reward their good behavior, even though we weren't exactly hungry from our earlier lunch.
While we ate, I tried to get an actual seat assignment on our flight leaving Taiwan at the end of the week. This gained new urgency when we were reminded that Calvin needed a window seat for his car seat (even on a wide-body jet, where we could hypothetically put him in the very middle and have direct aisle access on both sides), but I was also a little worried by the note on the website of Taiwan's immigration service that US passport holders needed a confirmed seat on a flight out of the country to be eligible for visa-free entry. We had a confirmed flight but not a seat because the first leg of our trip home was a code-share on ANA. (When we checked in to our flight to Taiwan, the airline agent carefully scrutinized our onward flight and entered some of the information into the computer. I booked our major intercontinental flights on one, open-jaw United reservation and booked a separate, one-way ticket from Hong Kong to Taiwan.)
Some of my Internet searches had led me to believe that I needed to call ANA to ask for a seat. (They'd also suggested trying to log into ANA's website using various combinations of my name, including "THEODOREMR", which I tried, repeatedly, to no avail.) This was on my list of things to do before leaving home, but not being a big fan of calling strangers in call centers and asking them for things, I prioritized Verizon (to get the GSM unlock code for my phone) and Bank of America (to make sure my credit card worked in Hong Kong) higher than ANA. So I dug up the Hong Kong number for ANA reservations and called. The customer support representative, once I got through to a human, answered in Cantonese, then tried Mandarin, and finally switched to English when I started talking in English, but told me she "couldn't touch" the seats and told me to call United. I complained that the universe was not providing the positive reinforcement I needed for my valiant effort at making a phone call, so Kiesa took my notes and called United, who said, no, we can't give you a seat on an ANA flight but we can ask ANA for one. Just for good measure she called ANA back and they told her exactly the same thing they told me. I wanted to lock both customer support reps in the same room and let them both out when they agreed to give me a seat, but, unfortunately, that didn't seem like a viable option.
(Kiesa later found some forums that suggested that United owned blocks of seats on its partners' code-share flights -- the seats that my ANA representative "couldn't touch" -- and that these seats were released twenty-four hours in advance of the flight. This seemed to match our experience: we were assigned our seats, including a window, almost exactly twenty-four hours before our flight departed.)
With our second lunch completed, we headed for security (where it felt, somehow, wrong to walk through the metal detector with my shoes on) and immigration (where we formally departed the Hong Kong SAR with decisive stamps in our passports) and found a children's play area for Calvin to amuse himself while we waited for our flight. We made our way to our gate, where we found a Hong Kong Airlines A330 waiting to take us to Taiwan.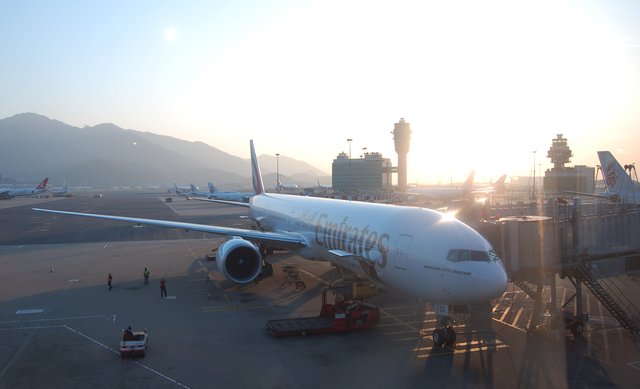 Emirates 777-300ER at Hong Kong International Airport
(This was not our aircraft, but it was parked at the next gate over and I got a much better view of it as the sun set on our visit to Hong Kong.)
At length we queued, boarded, and departed for the two-hour flight to Taiwan. I was sitting in one of the middle seats of the middle column of seats, thwarting any hope I might have had of seeing anything out the window, so I had to trace our progress on the map on my entertainment system. I'd also forgotten to check whether I could request a vegetarian meal (not being used to getting meals on anything less than a major intercontinental flight -- this flight was technically international, but not really any longer than flying to Seattle), so when the meal came Kiesa declined hers but I gave it a shot; I ate the thick noodle (with, I noted with disappointment, a fork) and skipped the mysterious balls served with it.
I spotted a few lights out the window on our approach into Taipei but didn't really get a good look as we landed and taxied to the gate. We shuffled out the plane into the international arrivals hallway and eventually into the immigration queues. I was carrying Calvin since we didn't have his car seat and its stroller wheels, so the guard overlooking the queues quickly waved us from the "foreigner" queue to the "carried babies" queue, which was so short I barely had enough time to grab our passports to present them to the immigration officer. He did not inquire as to the nature of our seat reservations for our departure and simply stamped our passports and let us into the country.
Once we retrieved our bags (our car seat seemed to take a while) and walked through customs we found a driver, sent by our hotel, holding my name at the arrivals gauntlet. I stopped by the local ATM for some New Taiwan Dollars (which I promptly put in my wallet next to the People's Currency I still possessed) and headed out to the curb to wait for our driver to pick up his car and pick us up. We drove from the airport to the city and I marveled at the giant, still-under-construction concrete viaducts on both sides of the divided highway. I caught my first glimpse of Taipei 101 as we drove.
We checked into Ambience Hotel Taipei, a small boutique hotel with a modern decor, that was almost nothing like the generic-but-comfortable hotel we left in Hong Kong that morning. We ended up with one king bed for the three of us, which Calvin thought was great as he settled into bed. I checked in with the world to verify that it was still there (and that my home country was still running, head-first, off the fiscal cliff) and tried to figure out if I was ambitious enough to go find somewhere to watch the massive fireworks show on Taipei 101. I finally decided that, no, I was not quite ambitious enough to brave the crowds in a city I didn't know just to see a giant, 188-second New Year's fireworks display, and went to bed.
For a parallel account of our last day in Hong Kong, see The Tenth Day.