In the aeroplane over the sea
Started: 2013-01-19 18:39:43
Submitted: 2013-01-19 20:26:29
Visibility: World-readable
In which the intrepid narrator flies home, lands before taking off, and experiences the same day twice
I woke up early enough to check out of our hotel at 06:30, when a car was waiting to take us to Taipei Taoyuan International Airport. After our experience in the taxi the previous night, Kiesa was relieved to be able secure Calvin in a proper car seat. Our driver took us straight to the departures level, where I marveled at the number of mainland Chinese airports that operated at the airport, proving that scheduled air transport between the two Chinas was alive and well, despite the official stance of the two governments to each other.
We queued to check in at the ANA counter for the first leg of our journey home, a relatively short three-hour flight to Narita. (After our attempts to convince either United (from whom we purchased our tickets) or ANA (who was operating the code-share flight) to give us seats (preferably together; ideally with Calvin sitting in a window so we could use his car seat) we were finally assigned suitable seats twenty-four hours before departure.) The ANA agents at check-in were not quite sure what to make of the Go-Go-Babyz wheels we had attached to the car seat (they may have thought it was a stroller, since that's how it appeared from behind the counter) and gave us a luggage tag for it so we could gate-check it. I wanted to confirm it'd really work like a gate-checked stroller (in that we could have it as soon as we stepped off the plane in Narita, since it was a key part of our strategy for handling Calvin and his car seat in the airports as we transited) and the agent kept using the term "ship-side", which I eventually decided meant the same thing.
We waited for our bags to clear the luggage scanner, then tried to figure out where to go to get to our gate. There was a very long line of people sprawled across the back of the terminal, and as we tried to track the line it eventually emerged that it was, in fact, the queue we were looking for. Just as we were about to turn around and find the end of the queue a security guard flagged us down and beckoned us to follow him. We did, and ended up at the diplomatic/crew lane, where another guard checked our boarding passes. We weren't quite sure what to make of the whole thing, since neither guard really spoke much English, when another passenger (whose flight was leaving soon, and had been routed through the special lane to increase his chances of making the flight) started translating, and then when the second guard and the other passenger noticed Calvin we realized we'd hit the magic Taiwanese deference for parents with small children and headed through the special security lane.
After the security checkpoint we passed through passport control to formally leave the country, then entered the departures lounge. I was starting to get hungry and cranky and needed something to eat. The terminal maps indicated that we would find concessions along the way to our gate, so we found a cafe next to our gate selling bagels and coffee and decided it'd be our best bet.
After breakfast we headed to our gate and presently boarded the ANA 777-200 (tail number JA710A) waiting to take us to Narita. Our last little bit of code-share-induced drama was the in-flight meal: United listed the flight as meal-free and apparently didn't bother to pass on our request for a vegetarian meal, so we ended up declining the meal ANA offered. Otherwise the flight was smooth and fairly boring, though we appeared to fly right over the disputed Senkaku/Diaoyu Islands, which I was reading about in The Economist at that exact moment.
We landed in Narita just after 13:00 local time. Kiesa rushed to take Calvin to the restroom after we landed, leaving me to drag the car seat out of the plane and find the car seat's wheels waiting for us, "ship-side", right where I expected. We queued to pass through a Japanese security screening, then entered the international terminal without formally entering the country. We found our departure gate and began charging our electronics and I posted the changelog I wrote on the plane documenting the first day of our trip. It was now time for lunch; Kiesa headed off in search of something to eat while I watched Calvin and our electronics. She returned with some tiny (and expensive) pizzas and edamame, having successfully used our credit card to avoid getting Yen cash. (I already had currency from Hong Kong, China, Taiwan, and the United States in my wallet, with the People's Currency sitting uneasily between the currency of the running dogs of the imperialists and the currency of the imperialists themselves.) This wasn't quite enough to sate me, so I headed off in search of food and found a restaurant selling udon noodles. The plain udon looked fairly safe (I was not going to ask any questions about the broth) but there were two words I didn't recognize, so I looked them up on my phone and learned that the plain udon was served with tofu skin and a sort of green onion. This sounded great, so I ordered (paying ¥1000 with my credit card), and enjoyed the noodle when it arrived.
Next to the noodle restaurant was an origami museum and shop that I walked through, gaping at the creations made only out of folded paper, remembering discovering origami as a child, and the legend of the thousand paper cranes. My fingers itched to fold a paper crane but the shop did not have paper available for such spontaneous offerings, though they appeared happy to sell me a pack of paper.
I returned to our departure gate and suggested to Kiesa that we take Calvin to the children's play area near the noodle restaurant, which was the same play area we visited briefly on our outbound trip. As the time of our departure approached we headed back to the gate and eventually boarded for the long flight eastward over the Pacific Ocean to Seattle.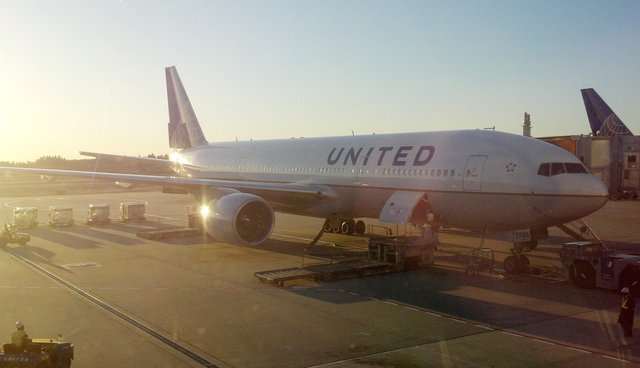 United 777-200 waiting at the gate at Narita International Airport
This Boeing 777 aircraft featured the older 2-5-2 seating configuration, unlike the other two 777s we'd flown on during the trip. (When I get a window seat I prefer this configuration, because it means there's only one seat between me and the aisle. I ended up across the aisle from Kiesa, which meant both of us had easy aisle access but I could see even less out the window than normal.) The in-flight entertainment system was also dated; aside from the choice of movies, it appeared basically unchanged from the in-flight entertainment system I first encountered on my first flight on a 777 in 1997, with a choice of several channels, each of which would restart after playing the movie. I already missed the video-on-demand system from our outbound flight but chose the in-flight map and didn't actually watch anything else during the flight.
We took off without incident and set out across the Pacific Ocean towards Seattle. During the beverage service a flight attendant served me a red can of ginger ale, and when I studied it she commented it looked different than the green cans we expected, and I told her about the can of ginger ale I received flying out of Delhi that was printed entirely in Urdu.
After the meal, when the cabin lights dimmed for the flight, I settled in to sleep and managed to get a modest amount of sleep.
We landed in Seattle at 08:40 Friday morning, local time -- before we left Taipei on Friday morning, thanks to crossing the International Date Line. We stumbled off the plane and were suddenly faced with the prospect of taking Calvin and his car seat (and the rest of our hand luggage) down an escalator -- but just as Kiesa picked Calvin up and I picked the car seat up and we boarded the escalator stopped so we reverted to the stairs next to the escalator. The immigration officer seemed a bit more chatty than the last few US immigration officers I've encountered on the wrong side of a long-haul flight, perhaps because I written on my customs card that I'd visited China, or perhaps because I was traveling with a three-year-old (which, I expect, is not exactly common), or perhaps because he simply wanted to talk. (As I answered the officer's questions I couldn't help but think that he was simply looking for anything "hinky" -- out of the ordinary -- in the words of the immigration officer in Port Angeles who thwarted a bomb plot in 1999.) He pointed us to the elevator to go down one more level to baggage claim and customs, where we waited for the luggage to recover from some unspecified blockage. When, at length, we'd collected our checked bags we headed for customs. "What kind of tea do you have," the customs officer asked, reading my customs form, "green, black, or white?" "Oolong," I replied.
We rechecked our bags, went through a small-but-efficient security checkpoint dedicated for international arrivals, and took a series of three people-mover trains to get to our next gate at the north satellite. It was time for breakfast, again, so Kiesa queued for bagels and I queued for coffee at Starbucks (where I found I missed the 中 on the menu; it was the first monolingual English menu I'd seen in two weeks). Kiesa checked her voicemail and learned that Xcel had experienced problems with the gas distribution system in our neighborhood the day we left and that we might be coming home to an unheated house.
I spotted the plane we'd just flown from Narita on waiting to go back to Narita.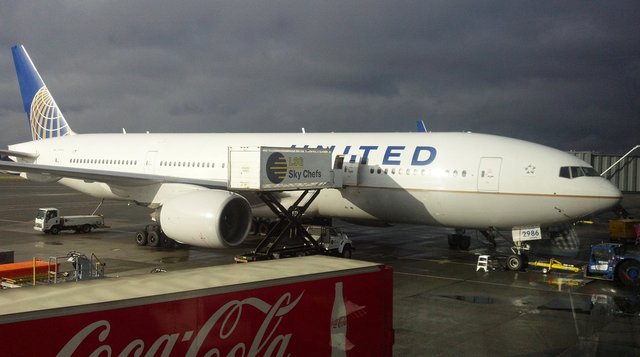 United 777-200 waiting at the gate at Seatac
We boarded our last flight back home to Denver, which was almost entirely uneventful until I remembered, half-way through the flight, that I'd left my Nexus 7 tablet in the seat-back pocket of our last plane. As soon as we got off the plane in Denver I hunted down the customer service counter, where the agent told me that all lost items get sent to Houston and that I should submit a form on United's website. I was not exactly impressed (I'd hoped that they might be able to call Seattle and double-check whether it'd actually been pulled off the plane) but took the offered slip of paper to fill out the form later.
When we got to our car we discovered the battery was dead, apparently because I'd turned on the dome light in the trunk because I couldn't see otherwise. (Kiesa has the nasty habit of turning the dome lights off because she doesn't trust them, but I like being able to see, so I turn them on and occasionally pick the wrong setting.) Kiesa called the parking service company for help and we waited for help to arrive. There were other people coming in and out of the parking lot in other lanes, but only one young woman came down our lane, and when I asked if she was in a hurry she said she was.
At length a parking service guy pulled up in a pickup, asked me to sign a waiver, and pulled out a tiny battery to jump-start the car. It worked, and we thanked him and he drove off. We followed, driving out of the parking lot just as the sun was setting over the mountains. For us, it was the second time we saw the sun set on Friday.
We drove home and found the house a chilly, but not frigid, 50°F, which was apparently what the flooring installers had set as they were venting the house. Our brand-new wood floors looked amazing, though the air was thick with the acrid stench of the VOCs they used in the finish. We drove to supper at Native Foods, Kiesa's favorite vegan fast-casual restaurant at the missing-hyphen mall (experiencing the tiniest bit of culture shock as I drove to a restaurant and parked in the car park parking lot), then returned home for an early jet-lagged bedtime, back home at last after an amazing two weeks in East Asia.
For a parallel account of our trip home, see Traveling Home: Two Fridays for the Price of One.