The month so far
Started: 2008-11-16 13:47:58
Submitted: 2008-11-16 14:41:49
Visibility: World-readable
Now that snow has fallen on my mountains, my life has settled into a less-eventful routine. I spent a major portion of several weekends knee-deep in boxes in the basement, reorganizing our stuff in storage and throwing out a bunch of stuff from my adolescence that I no longer see any compelling reason to hang on to. I'm contemplating various projects for improving my basement (and changing the scope of the projects on a daily basis) and considering what my next wireless phone should be. (I want a phone with Bluetooth, and my employer will give me money if I buy a phone with one of their chips in it. I've had my current phone for four years, just as long as I had my first phone for. I acquired both phones in November, so this seems like a good time to buy a new phone.) I ended up with more cubicle components, including a full set of the power, which should add some level of order to the power cables snaking across the desks on the north wall of the basement. After taking the summer off from running, I've settled back into an easy routine (five kilometers, three mornings a week) and I'm feeling faster than I have ever been. Yesterday I ran ten kilometers in under 52 minutes, a personal best -- beating even my best-ever unofficial Bolder Boulder time by more than a minute. I'm studying how to improve my training regiment to run faster and further.
On Tuesday last week, I biked to work for the first time since the weather turned colder. This is encouraging me to find new and exciting ways to spend my money on new bike gear -- I already acquired an upgraded LED bike light and tail light; now I realize my summer bike shorts are entirely inadequate for winter. Biking in the winter also means I need to drag more clothing along with me, which pushes my pack past its reasonable limits. Some of these challenges require new gear; others merely require creative planning.
Just before the end of Daylight Saving Time at the end of October, when the sun rises at its latest time during the year, I climbed Green Mountain before dawn on Thursday, 30 October. I set out from Flagstaff Mountain in the pre-dawn darkness by the light of my headlamp. I reached the summit a few minutes before dawn, signed the register, and felt a bit bored as I waited for the sun to rise. I sat on the summit rock and watched the first sliver of the amber sun poke above the horizon and watched the pink morning light reach the snow-covered Indian Peaks to the west. I left the summit when the sun was fully visible above the eastern plains and ate breakfast overlooking Sunrise Amphitheater, deserted in the morning light.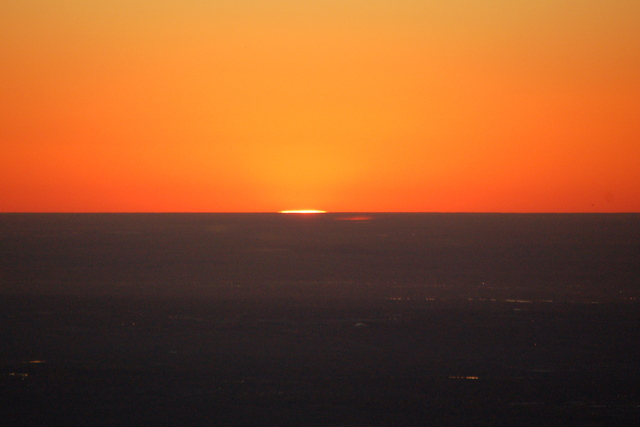 Sunrise from Green Mountain
In baby-related news, Kiesa and I started Bradley Method childbirth classes two weeks ago. At some points during the first class, I felt the urge to hold up a "citation needed" poster; the class didn't seem capable of giving western medicine the credit it deserves for slashing infant and maternal mortality during childbirth. One of the things I'm beginning to discover about childbirth and parenting is that everyone has their own opinions, which may or may not be "correct" in some absolute sense, but human children are fairly resilient anyway. There are plenty of traditional practices which are medically dubious or simply meaningless, but just because I wouldn't consider doing something doesn't mean I need to enter a protracted flame war with other parents who wouldn't consider not doing something. There are plenty of things that are wrong on the Internet that I need to ignore because I can't change them. All I can change is how my children are raised.